12 April 2021
12 Apr 2021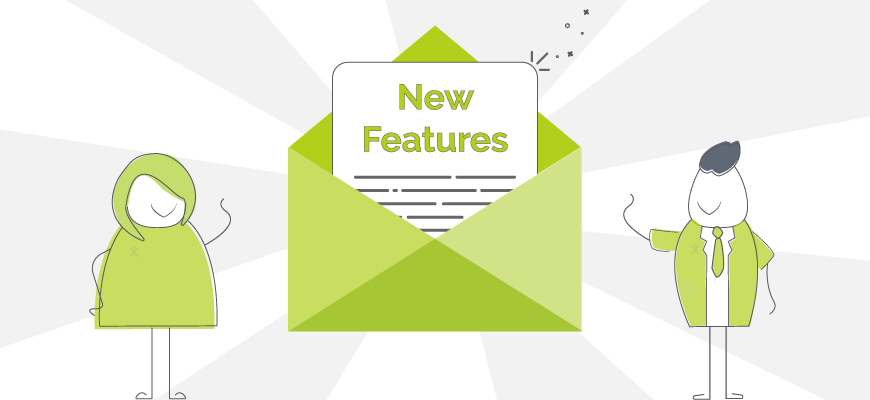 In our first release of 2021, we've got some new features around emailing from the system, managing your Activities and Projects, handling Ticket communication via the Portal, as well as a couple new ways to customise how you see OpenCRM.
So without any further ado, let's dive in.
Emails
They may not seem exciting, but these additions around emailing are going to make a big impact.
Stripo Integration
We've set-up a dedicated integration with Stripo so you no longer have to copy/paste HTML code from Stripo to OpenCRM.
With the click of a button, you can add the beautiful templates you've created in Stripo straight into OpenCRM.
To find out more about setting up this integration, have a read through this article.
Deliverability Improvement
We've made a change that will allow for better mail deliverability and reduce the chance of your emails getting caught in spam filters. Specifically we've included both the Contact (or Lead) name in what is known as the email header.
This is the bit of the email that no one sees (in most cases), but that the spam filters check.
Having a name in this field, along with the email address, should pacify some of the more aggressive spam filters that have come out in recent months.
Cancel Email Sending
You can now cancel the sending of a scheduled email AFTER it has started sending.
This is simply a matter of editing the email and changing the status to "Draft." (See how it's done in this FAQ.)
This tells OpenCRM to stop sending the email.
Any Contacts who have NOT received the email will still be linked to this "Draft" email. Any who did receive it will be linked to a separate email with the status of "Sent."
If you'd like to re-start the email sending, you simply change the status back to "Scheduled."
Emailing Projects and Contracts
It is now also possible to email multiple Projects or Contracts from the home screen of either module.
You simply tick the records you'd like to email and click the "Email" button. This will send the email to the Primary Contact.
If you have Pop2OpenCRM set up, any replies will also be linked to the Project or Contract that you clicked to email from…as well as the Contact.
Activities – Email and Action Plans
You can now create Action Plans and Email Plans straight from an Activity. The Activities or Emails will be added to the pending/history tab of the linked record. These can be triggered either manually or using a condition, just like elsewhere in the system.
As with anywhere in the system, you will also be able to see (and cancel) any and all scheduled Emails against the Activity by clicking the "List Scheduled Emails" and "List Email Plans" buttons.
PDF Templates (Projects)
We've added the ability to include a grid of all Activities linked to a Project on a Project PDF Template. Great for summarising 'time spent' or 'upcoming scheduled planning'.
This grid can be filtered, so only the Activities you want will appear on the PDF. The filter works the same way as your custom views. Include Activities of a certain date range, type, or any other criteria you'd like.
Choose which fields appear on the PDF and style the various columns just like you would the product grid on your sales PDFs.
Find out more in this article.
Viewing Tickets on the Portal
For those of our customers who use the Customer Portal as part of their customer service, along with HelpDesk, we've got a new setting and a bit of a bug fix that you will love.
Sending Comments
Instead of you and your team having to untick the "Show on Portal" box when adding Activities to Tickets, this is now unticked by default.
BUT, it will automatically be enabled whenever "Send Comment" is ticked. This means any comment you send to your customer as part of a Ticket update will automatically show on the Portal. But any internal comment or note will not.
We've also given you control over whether your portal users can see all the Tickets linked to their primary Company. This is switched on by default, but a quick trip to HelpDesk Settings will let you turn it off.
Images
We've also fixed a processing issue on our side that means any image included in the original Ticket description will now appear on the Customer Portal.
Products/Companies
This is one of those features that, for the people who need it, it's an absolute lifesaver. But for everyone else, it will just sail by, forgotten.
So listen up all those who link Products to Companies AND use "Member of" or "Child" Companies. This is a feature for you.
When linking a Product to a Company, you can choose to also link the Product to all "Member of" / "Child" Companies. If the Product is already linked to these "Member of"/"Child" Companies, you can auto update the link details to match the parent Company.
Additionally, we've added the option to remove the linked Product from all "Member of" Companies as well.
You can read all about how to use "Member of" Companies in this FAQ.
UI / Appearance
We like to give people options when it comes to setting up OpenCRM to fit their business. And this release offers two new ways you can do just that.
Calendar Changes
We have added the ability to include the mini-calendar (and extra lists) on both the 5day and Week views on the Calendar.
This change (a setting you can find in Additional Settings) makes these two Calendar views far more powerful than they were before.
Sidebar Themes
Each user can also now choose from eight (8) possible colour combinations or themes for the sidebar.
So if you are looking for a change from our beloved green & white sidebar, you can now choose something a bit subtler. Maybe you'd prefer grey icons on a green background…or even white icons on a grey background? This includes black icons for higher visibility.
Take a peek at them here.
And yes we are looking at other theming options, but you'll just have to wait a bit longer for those.
Lightboxes instead of Popups
You'll also notice that we've replaced a number of our popups with lightboxes.
This was done to help centralise the user's focus and prevent what is known as "orphaned" popups—when you accidentally click away and then can't find the popup window that was opened.
Performance
We've made a few tweaks to how custom views are populated, specifically those that use Financial Periods. These changes will speed up the load time of these custom views.
And, as always, you're getting lots of other general performance boosts and bug fixes along with these great new features.
See you next time.