2020 – The Year in Features
21 Dec 2020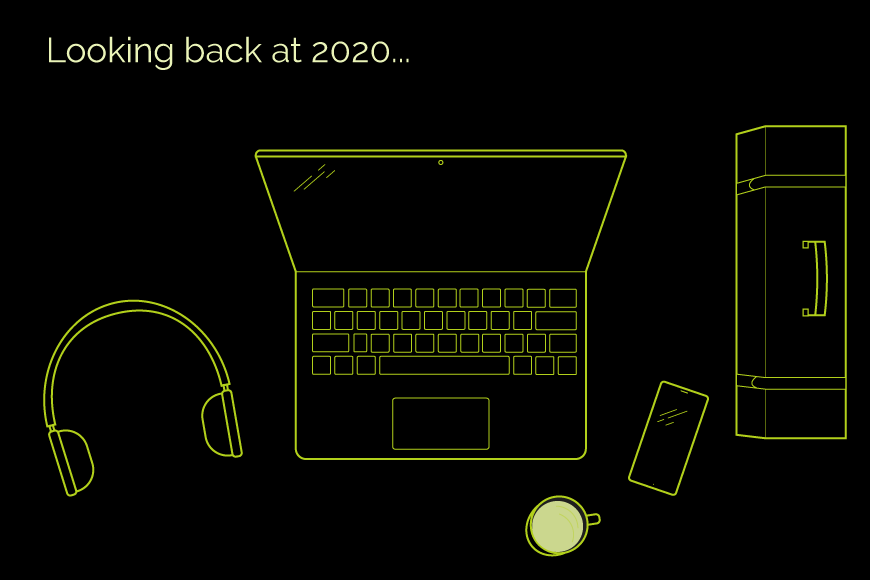 It's that time of year. The candle is slowly burning out on 2020. It's been a strange year to say the least. That hasn't stopped us from adding a whole heap of new features to OpenCRM. In this last blog post of 2020, we thought it would be nice to round up all those new CRM Tools into one place and give you a rundown.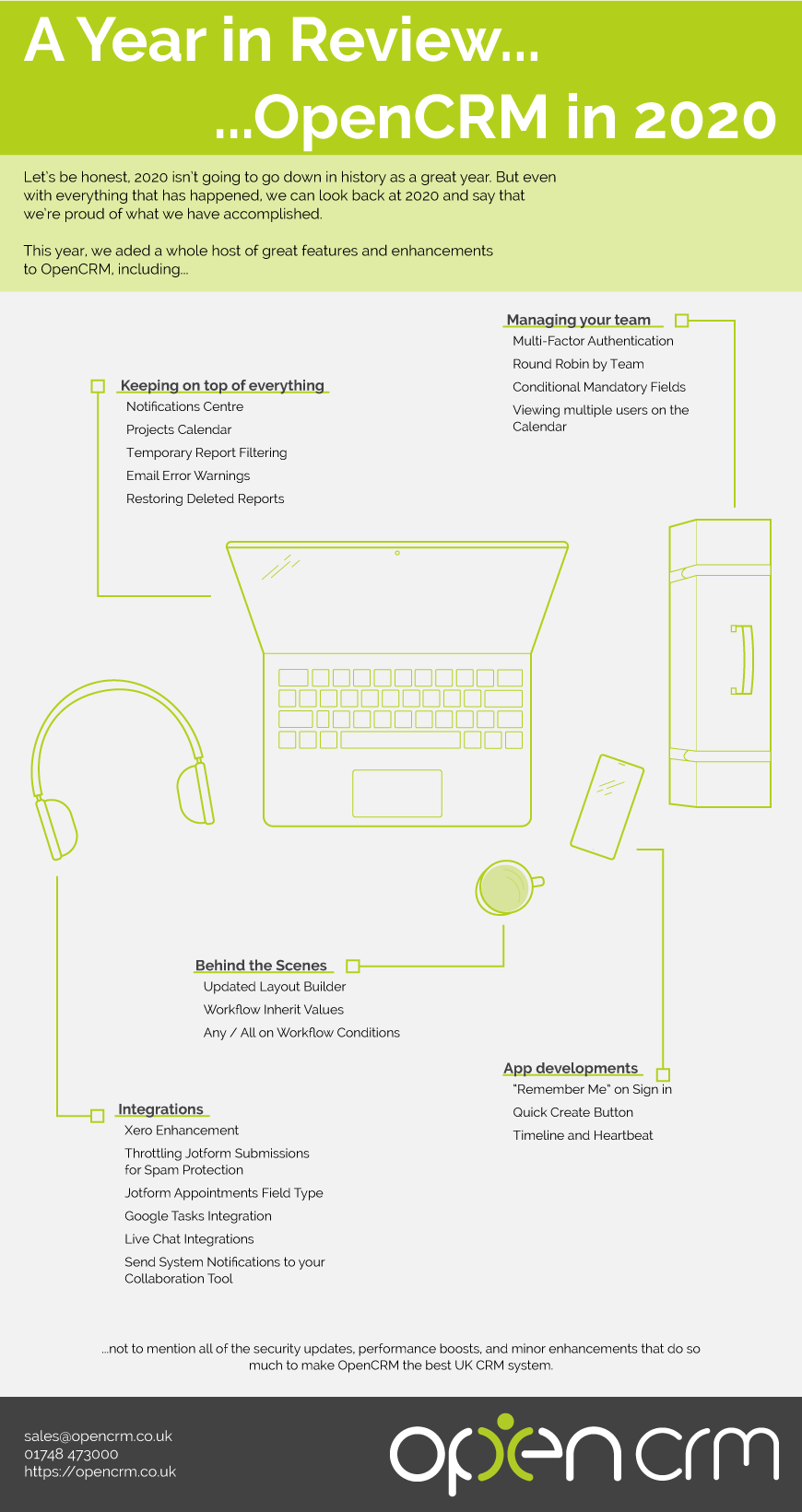 Behind the Scenes
Firstly, let's give an honourable mention to some of those 'Behind the Scenes' features. Those are the ones you might not immediately notice, but they are busy doing their thing in the back of your CRM system. The ones secretly making your life easier. These include –
Workflow copying values from one field to another
Workflow Any/All on Conditions
Updated Layout Interface
Our workflow feature itself has continued to make waves within the CRM industry in 2020. Automating actions within OpenCRM of the back of a trigger action…what's not to love? And with the tweaks we have made this year, it now works even harder so you don't have to!
---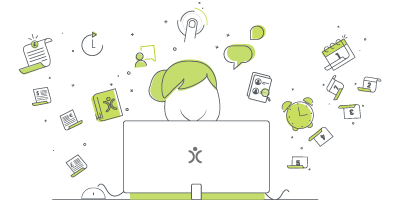 Do we have what it takes?
We don't restrict which features you have access to in OpenCRM based on how many users you have. You get everything right out of the box. Click to find out if we've got the features you need.
find out more
---
Keeping on top of everything
With everything going on in the world in 2020, it has been super important for us here at OpenCRM to keep on top of everything. So, we have implemented some new features to help with this.
The biggest helping hand we rolled out this year was our notification center. That little bell we added to your CRM top tool bar. As you may have noticed, it doesn't actually ring (we thought that might be a bit much) Having that bell pop up the number of notifications you have has really helped us to make sure nothing gets missed. We hope you have found it to have been as helpful as we do.
We also found that with so many projects on the go this year, we could do with a snapshot overview of them all. This led us to create the Projects Calendar. Now you can get a quick and easy view of all those ongoing projects you have. Simple to view and easy to access!
Some of the other cool 'organising' features are –
Warnings in Emails about broken images and SPF issues
Reports Apply but don't Save
Restore Deleted Reports
Product Grid on Tickets
Team Management
2020, we think, will forever go down in history as the year of the video call/meeting. With so many of us beavering away in our home offices, bedrooms, kitchen tables and so on, managing your team has seen some tricky obstacles this year. It has also presented some hurdles when it comes to security and making sure everyone accesses your system safely.
With teams not working under the normal office internet security protocols, we thought it was about time we added a Multi Factor Authentication feature to all OpenCRM systems. It was always hard for any ne'er-do-well to access an OpenCRM system. With MFA switched on, it's even harder for unwanted eyes to get access to your precious data!
It's winter and the Robins are out and about. Our Round Robin feature is no different, only this year, it has a brand-new feature to show off. You can now distribute work within a particular team, instead of everyone in OpenCRM! Got an inbound sales team and an outbound one? Not a problem, simply use the Round Robin to delegate the workload appropriately by team.
---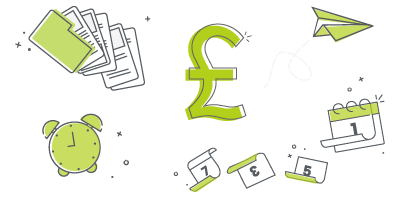 The bottom line
We've got a simple pricing structure: a per user monthly fee that gives you access to the whole of Open CRM. No restrictions and no hidden fees. See? We told you it was simple.
find out more
---
The calendar has had a neat new addition also. You can now filter multiple users' calendars at the same time. Perhaps you might want to check one team members day against another's. You no longer need to flip back and forth between 2 calendars. It's all in one place! Cool right? (We certainly think so)
Lastly in Team management, as if that wasn't enough, we have added the ability to make conditional fields mandatory. Within a record, let's say you have a hidden field. It's hidden until certain criteria are met, then it magically appears AND it's mandatory. So, your team can't "forget" to fill it in. Not only does this save on page clutter but it can be an excellent reminder for staff to input that specific data. Even the best of us forgets to do things occasionally. This is where the new feature pokes its head up. Make that conditional field mandatory, so when it appears your users can't accidentally forget to enter that important info!
Intergrations
We have and always will integrate with the best of the best! From Jotform to Zapier and Microsoft. OpenCRM works with them all! But we have been busy this year making sure those Intergrations are also packed with new features. Here are the top new Intergrations features –
Using JotForm's Appointments field type
JotForm throttling for security (No more spam via your website JotForms!)
Google Task's integration
Sending notifications to your collaboration tool
Live Chat Integration
---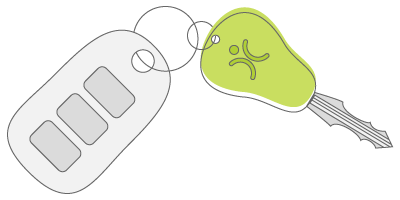 Want to take it for a test ride?
Nothing compares to trying out a piece of kit for yourself. Click to sign up for a free trial and see if OpenCRM has the look and feel (as well as the features and functionality) that you're looking for.
try it out
---
And last but not least – The OpenCRM mobile app updates
Those of you who have used the OpenCRM mobile app will be able to attest to how awesome it is. Being able to jump into your system from your phone whilst you are out and about is something our guys and girls do almost every day. But we have added a few of our award-winning browser-based features to your OpenCRM app.
Stay Signed in
Added Timeline
Heartbeat
Quick create
And with a Microsoft Teams 'early adopters' program being rolled out very soon, we still haven't finished. 2021 is going to be an exciting year for all of our OpenCRM users.
If you feel like any of the above features could help your workload, please get in touch with us. We can look at your specific process and tailor your CRM system and its features to match your business!
That's it from us in 2020. We will see you all bright-eyed and bushy-tailed in 2021. A very Merry Christmas from all of us here at OpenCRM and thank you for reading.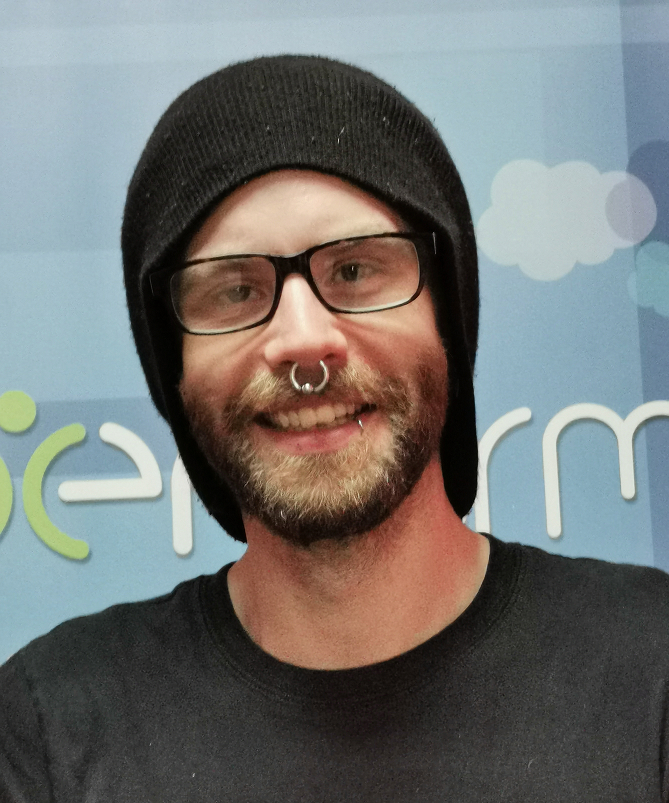 Having managed bands' and musicians' social media since MySpace was a 'thing', jumping on board with OpenCRM to help manage our social media output was an ideal place for me to be. I have lived in the historic city of York, beautiful sunny Brighton, but grew up here in the Yorkshire Dales. When I'm not in the office you can normally find me wedged into a tiny van trekking around the UK and Europe with my band or spending time with my partner and our son.