Autumn 2022 Release Notes
5 Oct 2022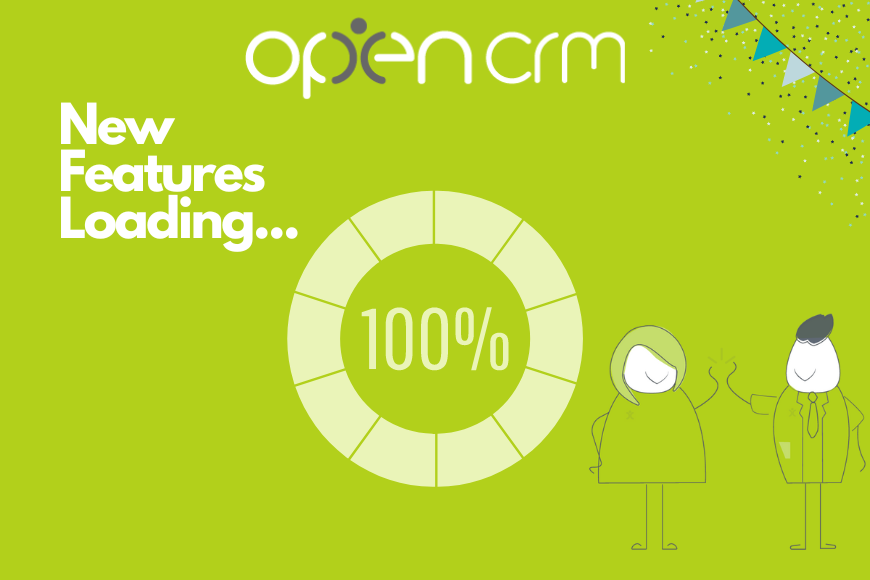 It only seems like five minutes since we rolled out the last batch of enhancements to OpenCRM, but here we are again with another release announcement.
One biggie from last time was an enhancement to the Timeline feature, to allow you to create Activities on the fly. This time, we have a series of features that should put a smile on your sales and customer service teams – read on…
New Goodies in the Sales Toolbox
The role of sales is in constant evolution and so to keep up, we have added a couple of new tools for you.
Fully Customisable Lead Conversion
Some B2B businesses may want to be able to use Leads for tracking Companies only and not Contacts. Therefore your Leads will be businesses rather than individuals. For this scenario, we have added the ability to suppress the creation of a Contact record, when a Lead record is converted. This gives you complete flexibility to create any combination of Contact, Company and Opportunity on Lead Conversion.

Enhanced Discount Management
This new feature allows you to use the total order value to determine the percentage of discount you want to give your clients. For example, if the total order of the quote is over 0-£100, apply a discount of 5% to all products. If it is £100-£200, apply a discount of 10% etc.
You can include or exempt products from this rule – so that postage and packaging products would not contribute to that pre-discount total for example. This is an admin feature that is controlled in the Additional Settings area.
Where Sales Meets Support
One of the principal benefits of a CRM system that all departments access is that shared knowledge space. Everyone can see interactions with your clients on all levels to give you that all-important overview. As such, there are features that are of use to more than one department
Helpdesk and Opportunities
Did you know you can log Opportunities against existing clients as well as new ones? In either situation, there will be instances where you want to log a ticket against an Opportunity. Perhaps you have a prospect using a trial product that has raised some questions, or an existing client has issues relating to the service you manage for them. For this purpose, we've enhanced the relationship between Helpdesk and Opportunities, allowing you to create new tickets or link existing tickets to an Opportunity. You've also got a new Opportunity field on the Ticket screen.
Account Ownership means Ticket Ownership
Often the Account Manager needs to see the full picture of what is happening with their clients. To help with this, we've added a setting that, when enabled, will cause tickets imported by Pop2OpenCRM to be assigned to the same user as the contact linked to the ticket.
Project Management
We've added a couple of enhancements to the Project functionality in OpenCRM
Project PDFs
Make your Project PDFs more dynamic. We recently added an enhancement that permits you to include Activities on Project PDFs (including the ability to include/ exclude activities based on criteria as determined by you). This latest enhancement also means you can alter the sort order of those Activities.
Who Is The Project For
We have added the Company Name field to the Pending and History subtabs on Projects – make it more front and central who the Company is when looking at Activities on Projects.
Speaking of Activities …
We sometimes hear how because Activity Subject is a free-text field, it can make it harder to report on this to spot trends. Did you know you could already use the Category field to auto-populate the Subject field? We have extended this feature to give you the ability to specify one (or more) fields to prefix to activity subject. This will prefix the activity subject with the field values when they are selected, and change the prefix if they are changed. Have the best of both worlds – free text entry when needed and the ability to make your subjects follow your preferred convention.
Automation and Config
Limiting Email and Action Plans to Work Hours
We already have a feature to skip non-work days, we've extended this to cater for office hours. Therefore if you have an Action Plan that is set to trigger an Activity in e.g. 1 hour, if the Activity start time were to fall after the work day, it will be set to start on the next working day.
Cancelling Emails when no longer Relevant
You can use Email Plans to schedule a series of Emails. If you run Conditional Email Plans, they will trigger automatically when the right criteria are met. However, if circumstances change and the Email Plan is no longer relevant, this new option will delete/ prevent emails from sending.
Field Conditions
Inline edit to add field conditions to the Default Field Access screen, This includes both Custom fields and Standard fields. Previously you needed to get in touch with us if you wanted to add conditions to standard fields.
Controlling how fields are displayed in Lists
We have added the ability to specify per field how many characters are displayed in record lists. For example, increase the length of the Activity Subject field to 100 characters to show more information in a list view. Note that this can only be actioned by OpenCRM, there is no end-user interface for this. Contact us if you would like to apply this to your system.
Customise fields shown in Recent Items, Global Search and Sub-Tabs
We now offer the ability to change the fields shown in the Recent Items, Global Search and Sub-Tab lists. This can only be done by the development team at OpenCRM and is a chargeable piece of work.
And that's it for this time. Keep your eyes peeled for our next update and, as always, if you have any suggestions for new features, we'd love to hear from you.
My role is to build our Customer Success team and I work with our clients and prospects helping them get the most from their subscription – it is a fun challenging role as no two days are the same. When not in the office I'll be either making a noise on my guitar or getting my trainers on for a run out in the Yorkshire Dales, North York Moors or the Lake District.