Autumn 2023 Release Notes
11 Sep 2023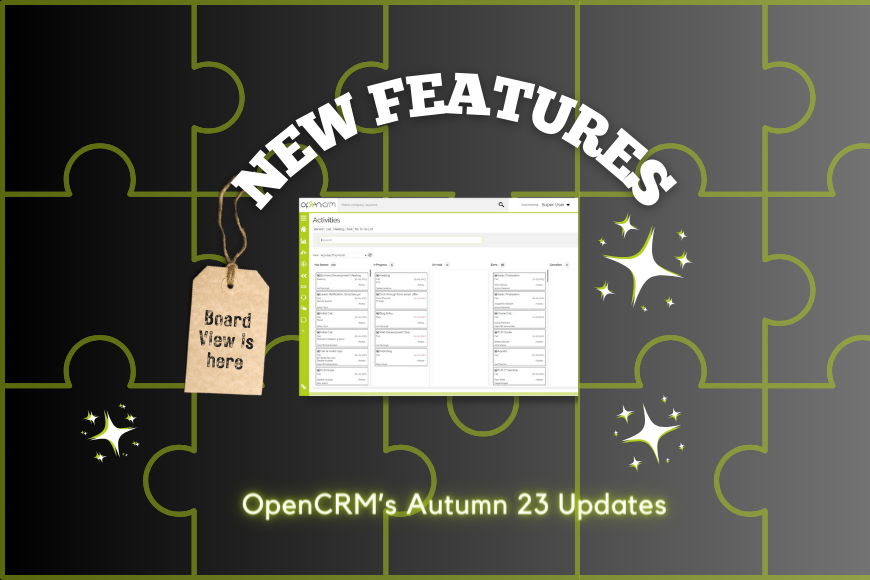 Once again we have been super busy preparing some new goodies for you to use in OpenCRM. As well as the usual back-end tidying and performance enhancements, we have some big hitters coming your way. Read on to find out more…
Major New Features / Enhancements
Kanban Boards on Opportunities, Projects and Activities
For some time now, we have been looking at some more agile solutions to really bring your module homepages to life. We are pleased to unveil the first version of our Kanban boards – available on the Opportunities, Projects and Activities modules. These boards allow for a visualisation of that data, grouped by sales stage or status. You can view the items, or drag and drop them to easily move them between stages. Custom views can be set to show as Board or List by default and the stages which appear on the board can be configured per view. This works on both browser and mobile versions. We hope you will give this great new functionality a try and look forward to your feedback.
Link Records Together Quickly
We have added a "Link" button at the top of the record screen on all modules. You can use this button to link that record to other entities. For example, from an Activity, you can link it to Users, Contacts, Projects, Documents, Companies or Personnel records.
New Features / Enhancements
Mapping Fields from Contact/ Company to Activity
This is a super-useful little enhancement. You can now map fields from a Contact or Company record, across to pre-populate field(s) on an Activity. If you have field mapping set up for both Contacts and Companies, creating the new Activity from the Contact record will map the fields from the Contact and their Main Company.
Using a Default Product on Opportunities, Quotes, Sales Orders, Invoices and Purchase Orders
This came in as a result of a customer request. They wanted to have the ability to have a default Product appear on their Quotes. We have implemented and extended this to give you the ability to set a default product to appear on new Opportunities, Quotes, Sales Orders, Invoices and Purchase Orders. This is controlled by enabling an additional setting for each module you want to implement this on.
Controlling Opportunity Name on Lead Conversion
We have added a setting to allow for better control of the Opportunity name when converting from a Lead or when creating from a Contact or Company record. The default is for the Opportunity to inherit the Company Name, but these new settings (one for Leads, one for Company/ Contact) enable you to set a default text, or set the Opportunity Name to be blank, rather than inheriting the Company Name. Contact OpenCRM Support or your Project Manager if you wish to change this.
Extra Timeline Functionality
On the Companies Timeline, we've added a setting to give you the option to display emails for all Contacts linked to that Company. This utilises the existing setting "List contact emails under history tab on companies".
Reports & Totals
When a total is added to a report, all rows that make up the value of that total will be displayed in the report results grid. Previously, duplicate rows were hidden in the report results which meant that manually adding up the values in the result rows (or exporting and totalling them in external software) would give different results to the totals shown on the report output. One example would be an Activity where you have more than one user linked. If you are totalling the duration of the Activities, then you would want to see a row for each user linked to that Activity to give an accurate summary.
Scheduled CSV Report Exports
With the assistance of OpenCRM's support/ professional services team, it is now possible to export a CSV of standard OpenCRM reports to an FTP site on a schedule.
Clickthrough Wizard Unsubscribes
Any of you using clickthroughs and unsubscribe links should be aware of email clients with auto scanners. This means they check each link for malicious content (including an unsubscribe link). The downside to this is that it will potentially unsubscribe the contact. We have remedied this by directing users to an intermediary unsubscribe page, where the contact needs to confirm their wish to unsubscribe. We have also added a Setting to allow you to find any other records matching the unsubscriber's email addresses and unsubscribe them as well: "When an email remove me is processed from the portal, unsubscribe and mark all records with matching email addresses as do not email."
Pop2OpenCRM Enhancement
Pop2OpenCRM is our email integration tool. By default, it imports emails (both sent and received) from your email client and links them to Contact record (and their main company) where the email addresses match. This new enhancement adds the ability to link emails converted by Pop2OpenCRM to any record by putting the CRMID in the subject or body of the email in a pre-configured format. This change will need to be done for you by OpenCRM Support or your Project Manager.
General Portal Enhancements
Content pages can be added to the portal and restricted behind portal login, for example, a "Meet The Team" page
It is possible to segment public and private documents into further sub-menu/ menu items by adding a filter to the menu item to filter the documents by folder as per the folder field set on the document in OpenCRM.
Quick Visualisation of Documents on the Portal
On the documents pages visible on the portal, we've given you the ability to store a thumbnail image which will show next to the document in the Portal. That will help identify what the document is.
Working with Multiple Sage Accounts
When Sage integration is configured with multiple Sage accounts, the balances in OpenCRM will be correctly updated from Sage.
Prior to this change, invoice and company balances may have been incorrectly updated if an invoice number was shared between multiple sage accounts because OpenCRM was not able to distinguish which Invoice to update. This then follows that the balance of the invoices company would also not be up to date.
We have also made some improvements to error reporting and troubleshooting options. For example, it is possible to save and then directly upload a sample file to OpenCRM.
Live Chat/ Engagement Platform Enhancements
OpenCRM has an integration with chat/ engagement platforms such as Gist and Dashly. We are constantly adding enhancements to this exciting area of product development. The latest feature is to be able to create an Activity in OpenCRM from a webhook triggered by Workflow set up in Gist. Contact your account manager if you are interested in learning more about how this works and how it can help your business.

My role is to build our Customer Success team and I work with our clients and prospects helping them get the most from their subscription – it is a fun challenging role as no two days are the same. When not in the office I'll be either making a noise on my guitar or getting my trainers on for a run out in the Yorkshire Dales, North York Moors or the Lake District.