Avoiding Holiday Chaos at Year End
14 Mar 2017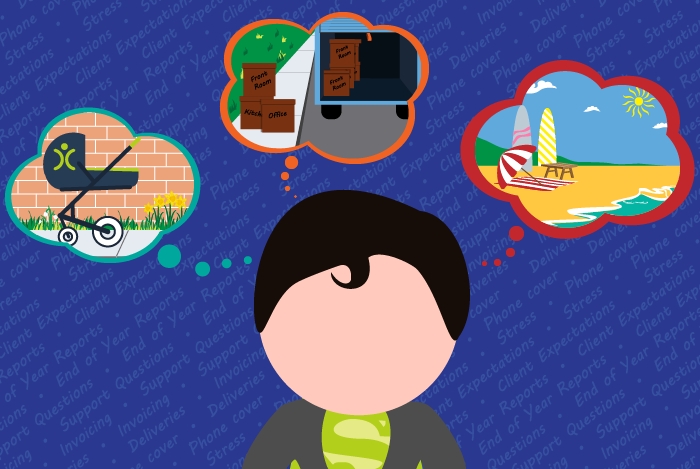 Year end is here, hooray, you made it!
But along with all the reporting and financial fun (not) that you have to tackle at this time of the year, there's one more job that needs to be managed: the holiday rush.
No, that the Christmas holiday rush, but the one where everyone suddenly remembers that they have a few days of holiday to use up and are desperate to organise "just a few days off."
In the last month of the financial year…and at the same time as everyone else.
This year, in addition to the normal one and two days people want to spend, we've also got a parental leave due any day now (OpenCRM baby on the way!) and someone moving into a new house.
It's been a struggle to make sure everyone is able to use their time up before the end of the year, while not putting too much pressure on any one person (or team) to pick up the slack.
So what are the things that have helped us make sure that March isn't too chaotic?
Calendar Management:
It sounds simple, but giving everyone access to each other's Calendars in OpenCRM means that they can easily see who is away. This means that they can put a bit of thought behind their own holiday requests.
To be honest, most of the team are pretty good at making sure that their holiday won't conflict with anyone else's.
Holiday Half Days:
Occasionally, though, there is a conflict between when two people from the same department need to take time off.
One solution that we have found with doing this is to ask people if they would mind splitting a holiday over two days and working from home for the morning/afternoon for the rest of the time.
Often this works out better because they actually end up getting to spend two days at home instead of one and we don't lose anywhere near as much resource.
Check in Hour:
Along a similar vein, if someone is going to be away for a week, if they're moving house for example, we may ask them to check in for an hour or so a day. Nothing scheduled, just whenever they get the chance.
This way, any important emails or discussions can be resolved in that hour and they have the rest of the time off.
Obviously it isn't one that we WANT to ask people to do, but when you have so many people wanting to take time off at the same time, it can be a necessary evil.
Just Dealing With It:
And sometimes you can't do any of those things and you, as a team, just have to pull together and deal with it.
Even with the best of intentions, March can be a difficult time for management. People want to take these left over days off and you've got a whole load of reports to sort out before year end.
At least a new holiday year starts next month…might just have to book some time off in April…