ClicData Integration
29 Sep 2015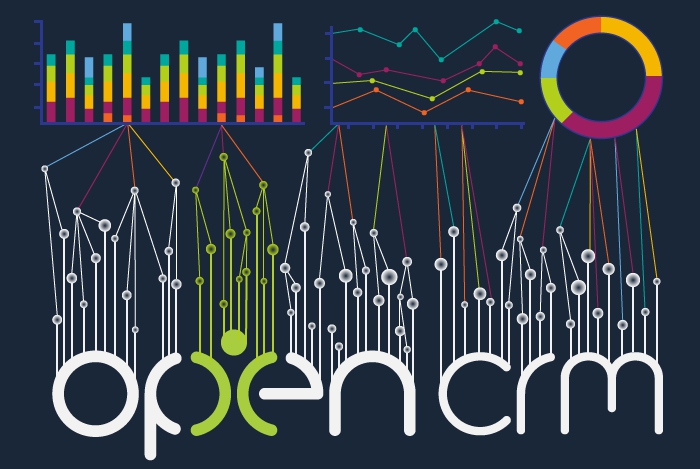 OpenCRM are delighted to announce the release of integration with ClicData, which was launched in October 2015.
Cloudpro have published the following article explaining the benefits of the recent addition to OpenCRM's third party integration list.
'ClicData customers will be able to log into their existing account and see all their data from within OpenCRM, enabling them to create new dashboards and reports so everything related to their customer relationship is managed in one place.'
What is ClicData?
ClicData is an online business intelligence dashboard creator that allows you to create cloud based dashboards, graphs, charts and reports.
You can bring in information automatically from a number of the systems you already use. From spreadsheets in OneDrive to Google Analytics to Facebook and so many more.
One you have them within ClicData, you can also merge different data sources into a single sheet.
So for example, you could have your website traffic from Google Analytics within the same data sheet (and therefore graph) as your Leads from OpenCRM.
In terms of data protection, you have the option to build security around these dashboards. You can use either a direct link with password protection or use the inbuilt ClicData permission model gives you.
How does it integrate with OpenCRM?
OpenCRM's new integration will allow connection between your OpenCRM system and your ClicData account. Giving you the tools to create live interactive dashboards and reports for your company.
This means you can present data in a more visual way than currently offered within OpenCRM's Reports module. You can schedule your OpenCRM Reports to be brought into ClicData on a regular, scheduled basis.
The integration itself is relatively straight forward and can be carried out in just a few steps. Firstly you will, if you don't already have one, need to set up a ClicData account. These are paid for accounts which are not associated with your OpenCRM subscription.
Once you have your ClicData account, you then connect with OpenCRM and chose which data you wish to use. The data is selected through the web service connection options within ClicData. This FAQ walks you through this process.
What can you do with it?
Once you have your OpenCRM data in ClicData, you can build custom dashboards with a variety of graphs and widgets. These Dashboards can be created and then circulated with your team.
ClicData have some examples to help you get an idea of what the kinds of dashboards you can build with it.
But I'd like to talk you through some of the things you can do specifically with the data from OpenCRM.
An Example Sales Dashboards
This is a dashboard that you can access from our demo. It shows a snapshot of how the sales team is currently performing: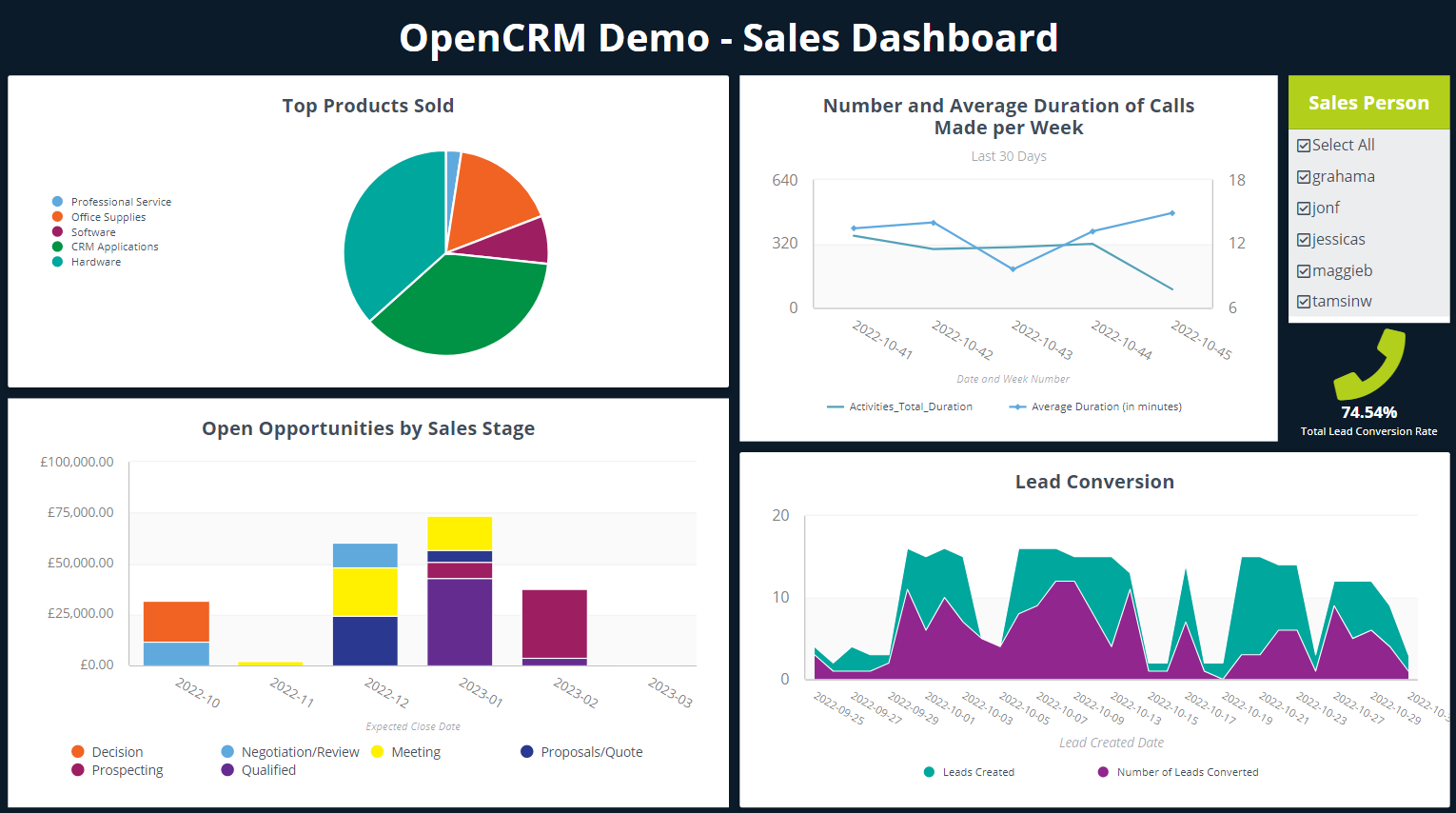 You can see on the right that you can filter it by sales person. This means you can easily see how individuals are doing. Or how the team is performing as a whole.
Moving clockwise, you can see which Products are selling the best, how many calls your team are making, what the Lead conversion rate is (both total and on a weekly basis, and a pipeline graph.
All of this is using data brought into ClicData from OpenCRM…data that could be refreshing every hour if you wanted. So you know the dashboard is always up to date.
Example Customer Service Dashboard
On a similar vein, you could have a dashboard to look at the performance of your customer service team: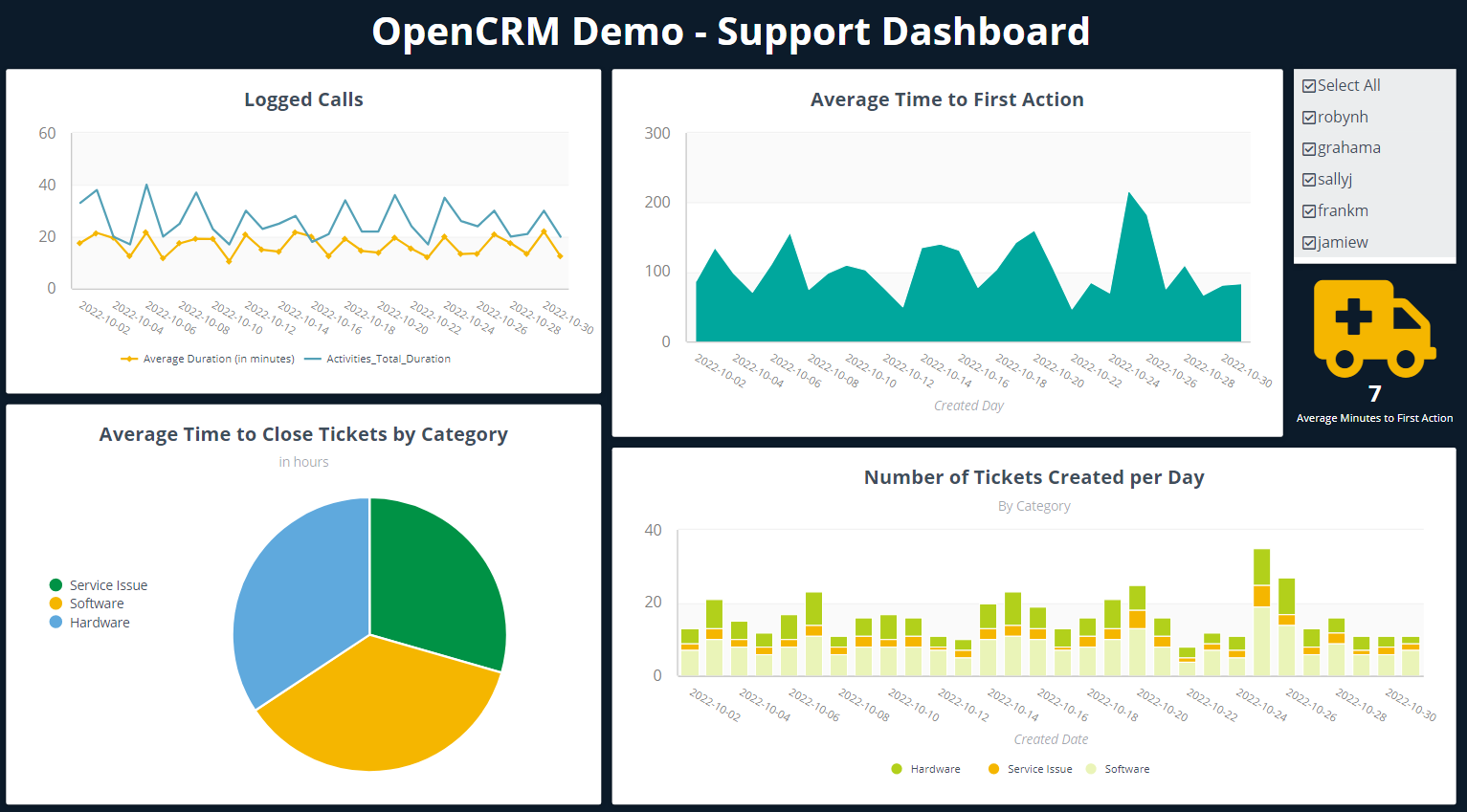 So again, you can see that you can select individual users to view a single person's performance. You can also see how many calls were logged, how long it took until some action was taken on a Ticket, how long they took to close, and how many were created per day.#
This again is a snapshot dashboard using data only from OpenCRM, but it could be combined with statistics from your VoIP phone provider, survey information, chat statistics, and on and on and on.
If you'd like to read more about how you can use ClicData to manage the various parts of your business, why not read our case study about how one of our customers does just that? Here's our ClicData Case Study.