A step-by-step recipe for generating leads with Facebook Ads
21 Jun 2021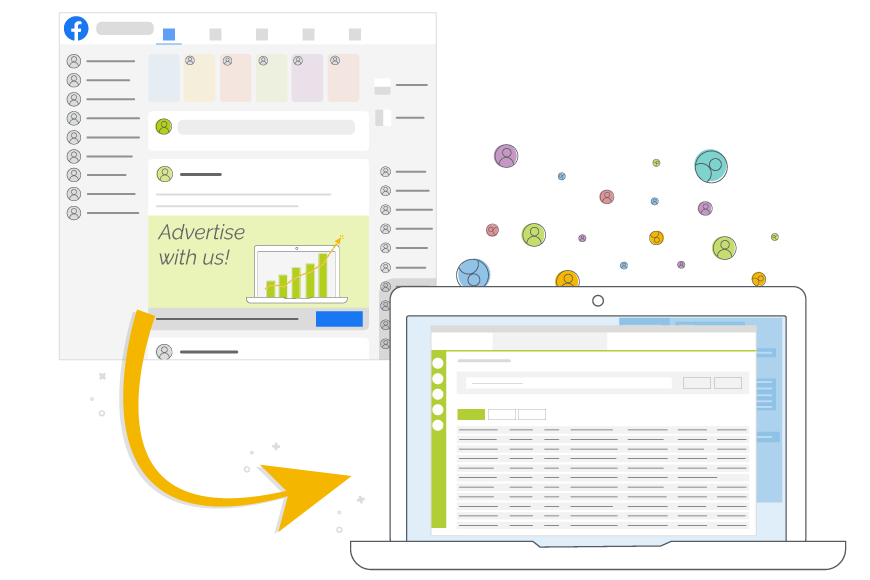 Conversion campaigns and lead ads are both great ways to generate leads on Facebook. But getting users to fill out a form isn't easy considering how cautious people are with their data, and how much they dislike being distracted on social media. Which type of ad will cause less friction?
Both types of ad are displayed in users' news feeds — they look almost exactly like Facebook posts, and only stand out with the "sponsored post" designation.
The differences start when a user clicks the CTA button. In the case of conversion ads, they will be redirected to your landing page. In the case of Lead Ads, Facebook will display a form auto-filled with the user's contact information, and ask the user questions we need to qualify them as prospects.
You can use these ads to:
Identify prospects for your business.
Learn more about your potential or current clients -their interests, behaviors, e-mail address, etc.
Encourage downloads of your content, sign-ups for events.
But which is best for your business? In this article, we will explain when each type is the right call, and how to use the type you choose to its maximum potential.
What is better – Lead Ads or conversion campaigns + landing page?
Before Lead Gen Ads (otherwise known as Facebook Instant Forms) were introduced, lead generation on Facebook was possible only with conversion campaigns. Users see ads, go to a landing page, and fill out a form. The main issue here is that users have to stop whatever they are doing and go to a new website, wait for it to load, and fill out a form. It takes time, trust, and motivation to do that. In addition, conversion campaigns force website owners to ensure the best mobile experience possible or risk losing leads.
In 2015 a new lead generation tool was introduced – Lead Ads. With Lead Ads, prospects never have to leave Facebook, and to make things easier, some fields are prefilled – making the entire process faster, especially on mobile. This results in a seamless user experience, with minimal interruption.
But it's not so simple as to say that Lead Ads are "better" just because they're new and easier for users. The truth, as with most things in life, is nuanced. Conversion campaigns can be a better choice for many reasons:
You can do what you want with your landing page. The potential to wow prospects with your page goes far beyond the experience of quickly filling out a lead form on Facebook. For some products, this can be a deal-breaker.
Driving traffic to your website powers your CRM with additional customer data, informing better decisions in the future. It's also a chance to use marketing automation to cross-sell, up-sell, and so on.
Conversion campaigns will result in fewer conversions (clicks), but cheaper, higher-quality leads. This is because with Lead Ads you're paying for an entire interaction with the form, but with conversion ads you're paying for a single click – the rest happens on your website. In addition, leads who went through the hassle of going to your website and filling out a form are more likely to buy,
As you can see, there are good reasons to use conversion campaigns instead of Lead Ads. It depends on your business, if your goal is volume above all, Lead Ads will serve you well. But if your goal is scalability (lead quality/price ratio), you should use conversion campaigns instead.
What is a lead generation funnel?
A lead generation funnel is a sequence of campaigns targeting different customers based on where they are in the buyer's journey. There are three main customer awareness stages:
Awareness – Top of the Funnel (TOFU) – not aware of your brand, product, or service
Consideration – Middle of the Funnel (MOFU) – People that are aware of you and have shown some form of interest.
Conversion/Decision – Bottom of the Funnel (BOFU) – Highly interested users that shared their contact info and want to learn more or try your product/service
There are many ways to approach this, depending on your business. If you're entering the market with a new brand and product, you can generate leads across all stages by moving users from one awareness stage to the next, using new ads for each step of the buyer's journey.
Established brands and products will benefit more focusing on MOFU (consideration stage). By the time people at this stage see your ad, they've already started researching available solutions.
Advertising top of the funnel content with Facebook Ads
A lead generation funnel can start at any of the stages of the buyer's journey, including the awareness stage. While targeting BOFU and MOFU users results in higher conversion rates than targeting TOFU, there are good reasons to take prospects through the entire cycle.
By excluding users who have interacted with your brand in the past from an audience, you can target Top of the Funnel users with conversion ads to build up awareness. In addition, those who interacted with your campaign make prime targets for retargeting in the further stages of the funnel. Don't underestimate the power of consistency in communication.
By taking control over the first impression people have with your brand, and making it all part of a single campaign, you're:
sending a cohesive message (both visually and conceptually),
engaging the prospect over a minimum of 3 interactions instead of 2, and in a timely manner
setting clear expectations for your product,
When prospects who recently engaged with your TOFU ads move further down the funnel, the consistency will foster a feeling of trust and familiarity with your brand. With that in mind, your first ad to put in front of a TOFU audience should be more of a greeting, your goal here is not to sell (yet), but to become familiar. During the following stages of the funnel, the selected prospects will be far more likely to engage with an actionable message.
Targeting on Facebook for Lead Generation
Facebook Ads campaigns can have multiple ad sets (targets) and multiple ads within those sets. You can target different groups of users in each set – this is ideal for lead generation, as we will segment our audience not only based on interests and behavior but also on how far each user is along the buyer's journey.
There are three ways to create audiences:
Use Facebook Audience Insights to specify the audiences you want to target with each ad set. Choose from a list of inclusive and exclusive parameters.
Create Lookalike Audiences – people similar to those who visit your Facebook page, website (if you have Facebook Pixel), or interact with your content on Facebook.
Upload a Custom Audience using the contact information you've stored on another platform. You can also use it as a source for a lookalike or a remarketing audience.
All of these can be combined. In addition, you can optimize your conversion rate in the following ways:
A/B testing your campaign. You can test your targeting or your ads. For example, which of the 2 variants of creative results in a better completion rate. Try changing details in your audiences, change the length of your forms, different lead magnets. Exclude people based on certain criteria or how people interacted with your business in the past. For example, those who downloaded your lead magnet or submitted the form in the past 90 days.
Use the dynamic creative feature. This lets you use many sets of creative at the same time, and Facebook will automatically run tests to determine the highest performing combination of headline, image, CTA, and other components for each segment.
How to set up a Facebook lead gen ad campaign
Facebook Instant Forms are an excellent choice if you want to reach users in the BOFU stage (conversion/decision). Those users already know about your product and are ready to make a decision. Your ad should make that decision as easy as possible – for best results, give your prospects a great offer and use a low-friction format. Here's how you create forms on Facebook:
Creating a lead form
Intro A short description shown to people who interact with your form. Use it to set clear expectations for users before they go further – a few words about your business, what people can expect when they submit your form.
Form Type You can choose to optimize for volume or intent. The latter involves a confirmation step before each form is submitted. Optimizing for intent will decrease the number of leads, but increase their quality, making your nurturing and sales processes more efficient.
Questions Add preset or custom fields to your form. Preset questions can be prefilled based on the information people have on their profiles. Decide how much information you need to qualify leads. Fewer questions result in more form submissions, more questions result in higher lead quality.
Privacy Policy To run a Facebook-compliant lead ad, you must link your company's privacy policy here. This step helps Facebook ensure users that their contact information will be kept safe. If you're advertising in the EU, remember about GDPR.
Thank You Screen The last panel people see after submitting the form. You can use this space to link your ebook, website, or upcoming event – the point is to end the interaction on a positive note, making leads more likely to buy your product.
Ad placement settings
Use automatic placement to reach relevant people in a platform-agnostic manner, or manual placement to control where exactly your ad will be displayed.
Device type – desktop or mobile.
Product – Facebook, Instagram, Messenger, Audience Network.
Location on the screen – feed, side column, articles, stories, etc.
See this table for all currently available ad placements
How to drive traffic to a landing page
Lead magnets – value for information
Most of the time, Facebook users aren't on the platform to buy new products. They want to read, look at pictures, laugh, and socialize. To make them want to suddenly stop that and fill out a form you need something valuable – a lead magnet.
Content – ebooks, whitepapers, checklists, tutorials, email courses.
Special offer – a discount, freebie, or trial. Timed offers convert best.
Events – including meet-ups, webinars, podcasts, conferences, what matters to each audience differs, but most people care about exclusivity, connections, and valuable knowledge.
Contests – people love competition, especially those that come with prestige and prizes. A great choice for well-positioned, prestigious brands, fun industries, anything popular.
Setting up a remarketing campaign
One of the advantages of driving traffic from Facebook to your website is the access to remarketing options. This lets you connect with people who previously interacted with your website or Facebook page.
Recently, updates to Apple iOS make this form of marketing much less reliable, as tracking across websites and apps is easier for users to disable or restrict. But that doesn't mean you should abandon it! Just use with caution and know that some of your website users may not be included in this remarketing campaign.
Website analytics tools provide a wealth of data to use in behavioral targeting – here's how you can utilize this potential:
To target almost-leads, create an Engagement Custom Audience. A subtype of custom audience, it's made up of people who engaged with your lead form but didn't submit. (Engagement includes video views, clicks on ads that didn't send a lead, using your app, or following your Facebook page.) This type of audience is unique in that it is constantly refreshed. You set the limit of how many days can pass since engagement for a user to be qualified into the ECA. This means users are gradually removed from the audience with time and replaced with new ones.
Install a Facebook Pixel on your landing page to track website visitors and what they do on your website. Use this data to create a custom audience out of visitors who visited your landing page but didn't convert. It's a good idea to change your approach a little, your original copy didn't convince them enough, so try something different.
Use automation marketing to personalize the experience on your website. Show products and dynamic content relevant to each individual user.
If you want to keep your remarketing on Facebook as personalized as possible, consider using sponsored messages to reach customers you haven't interacted with for a long time. This type of ad is sent through Messenger and looks like a conversation – resulting in high open rates and useful feedback from recipients.
How to connect with Open CRM to manage your leads
Without a third-party CRM tool, advertisers only have access to user data provided by the advertising platform. They also have to manage and contact leads manually. OpenCRM makes the process scalable and efficient through the use of several automation tools.
You can move new leads into your OpenCRM database through a Zapier integration – no coding required. Simply set both the trigger and action to "New Lead" and configure the rest in OpenCRM's dashboard.
With OpenCRM you can:
Improve response time and build lists automatically.
Establish long-term customer relationships, and aggregate data on how to best approach each sales opportunity.
Automate lead nurturing with personalized action and email plans based off that initial lead source.
Leverage data across many touchpoints to reach out to the right leads at the right moment and with context.
Qualify leads and coordinate with sales and marketing teams.