How can your CRM help you prepare for GDPR?
27 Oct 2017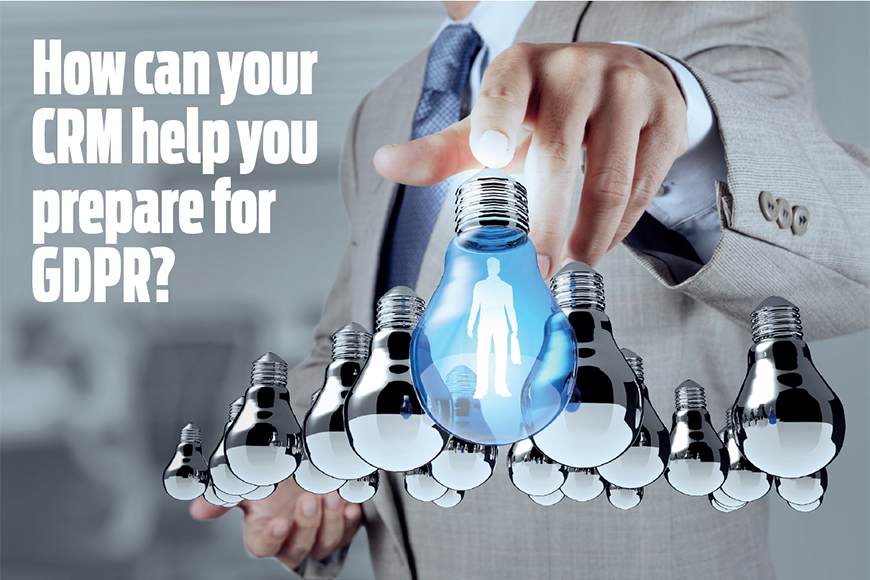 The date for General Data Protection Regulation (GDPR) is just around the corner and a lot of businesses are starting to worry over the amount of changes they may have to make in order to comply.
Our MD has written an article for the latest issue of Business Direction that will walk you through some of the ways you'll be able to use your CRM, the system that should sit at the centre of your business, to help you comply with GDPR.
This article also appears in the latest issues of Business Comment, Business Scotland, and Norfolk Voice.
How can your CRM help you prepare for GDPR?
As a business that stores and uses data as part of your day-to-day transactions, you'll be aware that the General Data Protection Regulation (GDPR) is coming into effect in May 2018.
It sounds like a long time, but many businesses' database still have a long way to go before they're compliant and the pressure is starting to mount.
Suddenly, May 2018 doesn't sound so far away.
There are two big issues facing most businesses when it comes to their data management and how that will be affected by GDPR: Data Cleanliness and Consent.
If you use some form of CRM system to manage your data, and most businesses do at this point (even if it's a bunch of spreadsheets), you will need to use the tools within it to tackle both.
Data Cleanliness
You will already be familiar with the pain of trying to keep your data up to date, free from duplicates, and standardised. Under GDPR, however, failure to do so can have some fairly serious financial (not to mention the existing reputational) consequences.
Depending on your system, you will have a number of tools at your disposal, however, to manage this more effectively going forward:
1. Keeping your data up to date
By carrying out regular data cleansing, you can go a long way towards ensuring your data is current and correct. This includes picking up incorrect email addresses, identifying and preventing gaps in your data, and highlighting when an individual has not been contacted recently.
Most CRM systems will allow you to set important fields as mandatory, preventing your users from saving a record without gathering the correct information. Equally, you should be able to get an overview of your data through reports and filters that will show you gaps in your data and the dates of last contact.
Ideally, your system should have a way of automatically detecting and recording bounced email addresses, highlighting them to you so that you can get in touch to clarify the accuracy of information.
2. Managing duplicates
According to a study by Royal Mail, 61% of marketers reported that duplicates were a major factor for them when it came to their data quality. It also has huge implications for GDPR around recording consent, the accuracy of your data, etc. Not to mention the fact that it is just plain annoying for you.
Your CRM should be able to help you identify duplicate records and then merge them together when you find them. Automated duplicate checking on new data is equally vital, especially where you have the ability to set which fields are checked and include any necessary exclusion rules.
3. Standardisation
Finally, your users need to be able to organise and categorise all the data in your system based on your own company terms and phrases. Otherwise, they won't be able to separate your prospects from your customers or your former clients from your suppliers.
And if they don't know what the relationship is, they could easily run afoul of GDPR's strict data use policies.
Consent to Use Data
This is the big one when it comes to GDPR and it all boils down to this: if you don't have consent to process someone's data or email them and you do it anyway, you will be fined.
Pretty simple.
You need your CRM system to be able to help you manage this in a big way with fields to help you track who has opted in to receive your communications, who would rather be contacted over the phone, and who doesn't want to be contacted at all.
Alongside all this, you will need to be able to say when you received this instruction for each. and. every. person.
It's a big job and you need to have a CRM system ready to support you in this endeavour.
Sound Scary?
It definitely does. GDPR is introducing a whole new level of responsibility for anyone processing any data…which is pretty much everyone. Having the right tools to manage these requirements is absolutely vital.