How To Generate Leads & Sales With LinkedIn Ad Campaigns and OpenCRM
23 Mar 2021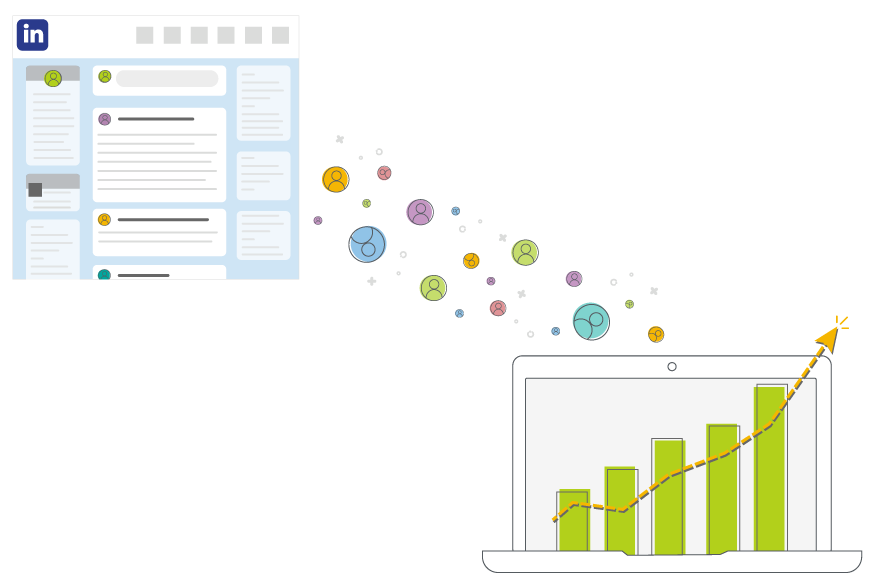 LinkedIn may not generate as much buzz as other social marketing websites like Instagram, Twitter, and Facebook, but it's an excellent way to generate leads and sales, particularly for business-to-business (B2B) companies.
It has more than 740 million users who are often executives, thought-leaders, and decision-makers – and are looking for ways to improve their businesses, enhance their teams, and operate a more effective day-to-day business. 45% of individuals with a salary of over $75,000 say they use LinkedIn, and according to LinkedIn, 4 out of 5 LinkedIn members are, in some way, responsible for driving business decisions at their companies.
So in this guide, I'm going to take you through the basics of how to generate leads and sales using LinkedIn. I'll explain how its ad campaigns work, discuss which ad types may be right for you, and give you tips on how to improve your ad effectiveness.
As a former LinkedIn employee, I know more than a little bit about the platform – and my company Llama Lead Gen is all about helping other businesses and entrepreneurs succeed with marketing on LinkedIn and other such marketing platforms. So read on, and get some of my top tips and advice on how to make LinkedIn ads work for you.
Running A LinkedIn Lead Generation Campaign With A CRM
At the most basic level, LinkedIn ad campaigns work similarly to other social media marketing platforms like Facebook. You build an ad, place it in front of a specific audience, and then pay LinkedIn based on how many people click or see the ad.
Most LinkedIn ads will then take the user to a landing page – which you can integrate directly with your CRM and sales pipeline. In turn, this can trigger an email campaign or a wide variety of other integrations with OpenCRM.
To break it down further, there are four main types of ads that you can choose from when starting a paid LinkedIn ad campaign.
How To Choose The Right Ad Type Based On Your Objective 
The proper ad type may vary depending on your business objectives. LinkedIn allows you to pick from the following goals:
Brand awareness
Website visits
Engagement
Video views
Lead generation
Website conversions
Job applicants
Talent leads
I always recommend that you consider your business objectives before choosing the type of ad you use on LinkedIn. For example, if you just want to raise brand awareness, a video ad would be a great option.
On the other hand, if you're looking for leads, you may want to use LinkedIn Message ads and Sponsored Content with lead gen forms – as this will deliver better overall results compared to a more general sponsored ad.
What Ad Types Work Best?
The short answer is "it depends." It depends on your goals, your line of business, and your ad budget. All types of LinkedIn ads can be effective, but for different purposes.
For example, let's say that you run a third-party logistics (3PL) company and want to bring in more clients. You may be able to do this by using a LinkedIn Message Ad and sending messages directly to potential prospects. This kind of direct approach is great for B2B companies.
However, this strategy would not necessarily work for a software company that wants to promote a new consumer-focused business product and raise brand awareness. Instead, you may choose to run an ad campaign with a piece of Sponsored Content that outlines the new features of your product or provides insights on how it functions.
This also depends on your overall sales process. If you already use landing pages and get leads directly to your CRM, it may be a better idea to use ad types that send people directly to these pages – rather than InMail and message-based ads.
How LinkedIn Ad Campaigns Can Work Together With OpenCRM
Using a CRM (Customer Relationship Management) software like OpenCRM with LinkedIn can turbocharge your lead generation campaigns. OpenCRM has a lot of different features, as well as integrations that are very helpful for business owners. These integrations include:
Office 365
Google
MailChimp
CampaignMaster
Zapier
Stripo
Xero
JotForm
Dashly
TextLocal
And much more.
This is particularly valuable for lead generation since you can use the information you've collected on existing customers to target them directly through LinkedIn, targeting individuals, companies, and audiences who are likely to be interested in what your company has to offer.
For example, if you use OpenCRM, you can easily export your Contacts and then import these into LinkedIn Sales Navigator. Once in LinkedIn, you can then use this information to build more effective ad campaigns and target audiences more effectively – allowing you to bring in more qualified leads. OpenCRM is a leading CRM solution for UK-based businesses, as it provides customers with all of the features offered by other CRM companies at a fraction of the price.
Campaign Examples & Learnings
At Llama Lead Gen, I've been doing a lot of LinkedIn Advertising – and we've taken notes from some of our best LinkedIn campaigns that are sure to help you. Take a look at our case studies – or take a look at our Ultimate Guide to LinkedIn Advertising for even more helpful information.
How To Get Better Results With LinkedIn Marketing – Our Tips
Wondering how you can get better overall results with LinkedIn marketing and ads? Here are a few top tips you should keep in mind.
Look at the data
One of the best ways to improve your overall results with LinkedIn Ads is to look at the data about the performance of each campaign. LinkedIn lets you measure conversions in real-time, track impressions and social shares, and analyze cost per click (CPC) to see which ads are succeeding and which ones may not be doing as well.
A/B test
This means testing two different versions of an ad, and looking at which one performs more effectively. A/B testing can help you learn more about what works – and what doesn't – in your LinkedIn ads, so consistently A/B testing will lead to better overall ad performance and better lead generation.
Nail down your audience
LinkedIn lets you adjust a lot of different parameters to reach the right audience. This includes member groups, company size, company name, skills, job title, seniority, and many more, for a total of more than 20 different attributes.
This allows you to choose the audience for each ad on a very granular level. So take advantage of this, carefully consider who the right audience is for each LinkedIn ad, and strategize accordingly.
Invest in video
Video ads are highly effective. Viewers claim they retain 95% of the information they see in a video, and video ads are very engaging, especially when contrasted with the mostly-static ads and content on LinkedIn.
Integrate LinkedIn ads into your sales process
It's helpful to think about your existing sales processes and ad campaigns, and to think about how LinkedIn fits into the equation. If you're using OpenCRM, you're likely in a great position to use your existing landing pages, integrations, and other tools to seamlessly execute an automated LinkedIn ad campaign.

Get Started With LinkedIn Ad Campaigns – And Use The Right CRM And Marketing Tools
LinkedIn has a surprisingly large reach, and it's very popular among executives, decision-makers, and stakeholders in businesses, making it a highly effective tool for B2B companies.
But the only way to find out if LinkedIn Ad campaigns are right for your company is to try them out for yourself, and both OpenCRM and Llama Lead Generation can help. Keep what you've learned in this article in mind, and feel free to reach out if you'd like more information about how the team at Llama Lead Gen can improve your LinkedIn ads.