Keeping Track of Employee Holidays
17 Nov 2016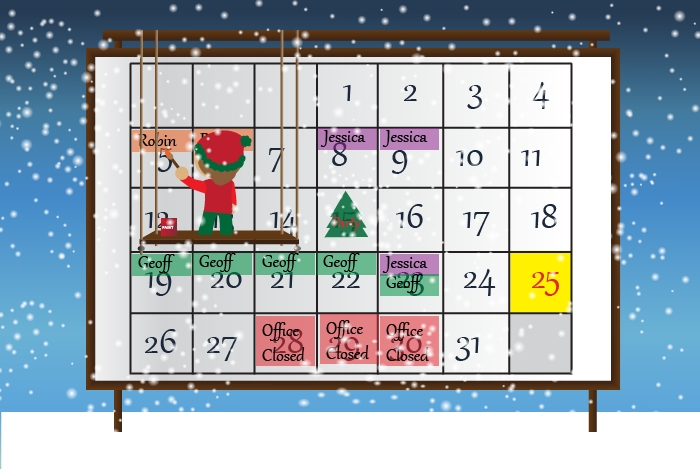 With the Christmas break looming on the not-so-distant horizon, the subjects of holiday time and opening hours are being discussed up and down the country.
A lot of offices close over the holiday period, there are a number of bank holidays, and people need to take extra time off to look after kids who are out of school or just to recover from the inevitable parties. Juggling all of these requests can be tricky for an HR department (or individual).
So what can your CRM system do to help?
It's really very simple and it all comes down to Calendar management.
Holiday Requests
Having a unified Calendar, like the one in OpenCRM, that can show you everyone's Holiday Activities is essential at a time like this. At a glance, you'll be able to see who exactly is off on a particular day and work out whether all departments have the cover they need.
You can go one step further as well, should you need to, and check someone's Personnel record to see if they've got any holiday time remaining for a last minute request.
Having all of this information at your fingertips will save you digging through files and chasing up old emails to double check or cross reference dates requested.
Office Closure
Now that takes care of individual people's holiday time, but how do you let everyone know which days the office will be closed.
We use a very simple solution to this potential problem. In the weeks leading up to the first of April every year, the person responsible for HR will create a series of Activities, assigned to the "Everyone" team, to show exactly which dates the office will be closed.
This means that, whenever someone checks the holiday calendar for December (and January), they will see those dates already blanked out.
You can see how with a single, central Calendar you can easily solve a lot of the confusion that hangs over an office during the holiday period.
Not sure what you need?
Get in touch with our team to schedule a custom demonstration.