Building and Automating Your Sales Funnel with OpenCRM
4 Jul 2022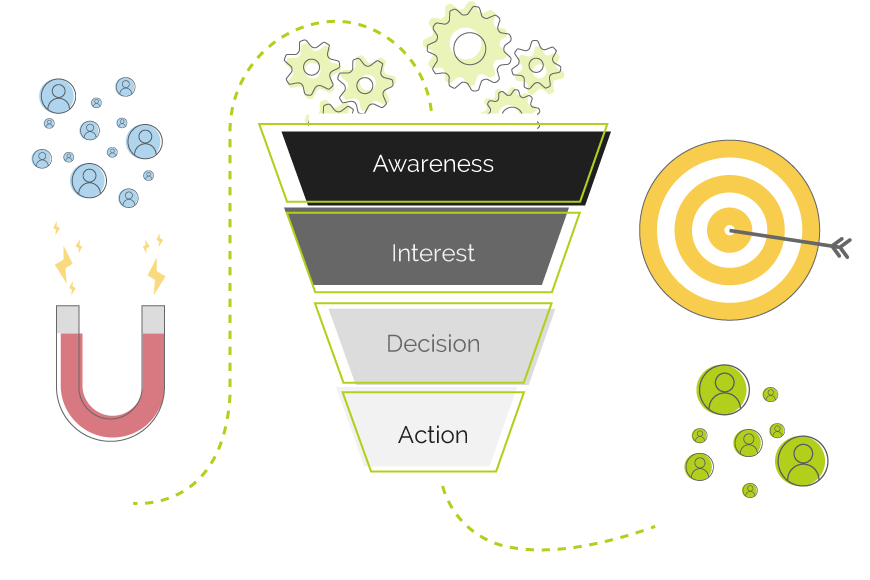 (Republished from an earlier article)

Sales are the lifeblood of any business. After all, if you're not selling your product or service and bringing in revenue, it won't be long until you're out of business! The art of making a lot of sales is to have a healthy sales funnel that brings in and guides new prospects right through to the point of making a purchase. Sales funnels look different depending on your sector and value proposition, but they all follow a set of underlying stages. 
In this article, we're going to deep dive into the concept of sales funnels by looking at what they are, why they're so important and how you can incorporate a highly successful and automated funnel into your business using OpenCRM!
Quick Links:
---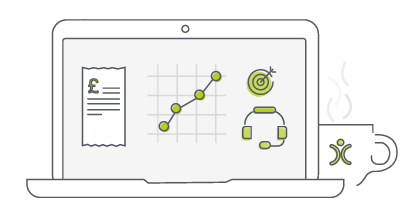 Looking for a quick overview?
Sometimes all you are looking for is a quick video to give you a feel for the software you're investigating. Well search no further. Just click the button, sit back, relax, and watch our quick overview video.
watch now
---
What is a Sales Funnel?
Let's start with the basics by understanding what we mean when we talk about a "sales funnel". Put simply, a sales funnel is a visual representation of how your leads move through your sales process.
Much like an actual funnel, your sales funnel should be wide at the beginning to attract as many leads as possible from many different sources. But unlike a real funnel, a sales funnel has some holes in it. As leads move through the sales funnel, the ones who no longer qualify for your product/service get filtered out. This will leave only the perfect customers to reach the point of purchase.
A business may have several optimised sales funnels for different customer personas or the various products/services they sell.
Why is an Effective Sales Funnel Important to Your Business?
There are several reasons a business will strive to create an effective sales funnel.
First and perhaps, most importantly is to generate as many sales as possible. More sales equal more revenue and hopefully, in turn, more profit. There isn't a business on earth that doesn't want to close more deals. You can guarantee those that do make lots of sales have a well defined and effective sales funnel.
Secondly, having an effective sales funnel enables a business to serve its potential customers better. By knowing exactly where your prospect currently sits in your sales funnel will help you better understand their wants and needs at that time. Knowing what your customer needs up front will make your team more effective and efficient when dealing with potential customer requests.
Lastly, having an effective sales funnel will help you accurately predict your future sales revenue. Sales forecasting is perhaps one of the trickiest arts in all of the business world. But an effective funnel will help gain some clarity on your future sales performance.
So, more sales, happier potential customers, and improved sales forecasting – what's not to like?
But how do you go about building one?
The Key Sales Funnel Stages (Awareness, Interest, Decision, Action)
So now that we know what a sales funnel is and why they're important, it's time to dive deeper into how we build one. To do this, we're first going to take a look at the four critical stages of a sales funnel so you know what it should do for your potential customers.
Step 1 – Awareness
Your sales funnel's first essential objective is to build awareness of your business, brand or product with a potential customer. At this stage, we're right at the top of the funnel, so we want as many leads as possible to become aware of what you do.
There are many ways you can do this. All of which will predominantly come through your marketing efforts. Examples include social media posts, advertisements, word of mouth, printed materials or interactions at a sales expo.
Objective – Make your potential customer aware of who you are and how you can help them!
Step 2 – Interest
When potential customers become aware of something they like, their interest in your product/service will start to build. At this point, they'll likely begin to actively look at what you do and make the first meaningful contact.
That could be visiting your website, subscribing to your mailing list, connecting with a team member on LinkedIn, or simply picking up the phone to ask for some more information. The key to success here is to ensure you provide the most exciting information to your potential customer as possible to keep their attention.
A great way to maximise that interest is with a customised sales funnel. If, for example, your potential customer has searched for a specific product feature through Google, make sure the link they click from your result takes them to more information about that exact feature, not just a generic homepage. They've searched this for a reason, don't waste the chance to impress them!
Objective – Maximise your potential customer's interest in what you do!
Step 3 – Decision
The hardest part of the whole sales funnel process is getting your customer to decide to buy with you. Here is where the art of selling comes in to convert your potential customer into a real one.
The decision process will look and feel different for each and every one of your prospective customers. Typical behaviours here may be your lead signing up for a free trial, having a demo, enquiring further about your product/service pricing, or reading existing customer reviews.
Objective – Guide your potential customer to choosing you as the provider for them!
Step 4 – Action
It's all come down to this. The final step of your sales funnel is designed to get your customer to take the action you want. In most situations, this will be getting them to buy your product/service.
Naturally, the way a customer may trigger a purchase will look different from business-to-business. The key is to make the action step as simple as possible. You want to ensure there aren't any barriers to finally making that sale!
There may be certain situations that customers don't choose to buy from you. In those situations, try to find a way to keep them engaged with your brand. Ways to do this could include subscribing them to your monthly newsletter or scheduling a follow-up call to check back in further down the line.
Objective – Help your customer take the action of purchasing your product/service.
---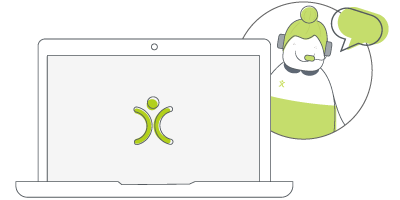 Let us take you on a tour
You've had a look around and are starting to think OpenCRM might be the system for you and your business. Why not chat with one of our team (and ask your burning CRM questions) as they take you on a tour of the system?
find out more
---
Case Study – Creating an Automated Sales Funnel in OpenCRM
Now we know what a sales funnel is, why it's essential to your business, and the critical sales funnel stages. It's time to think about how yours will look and how you will practically implement it within your business.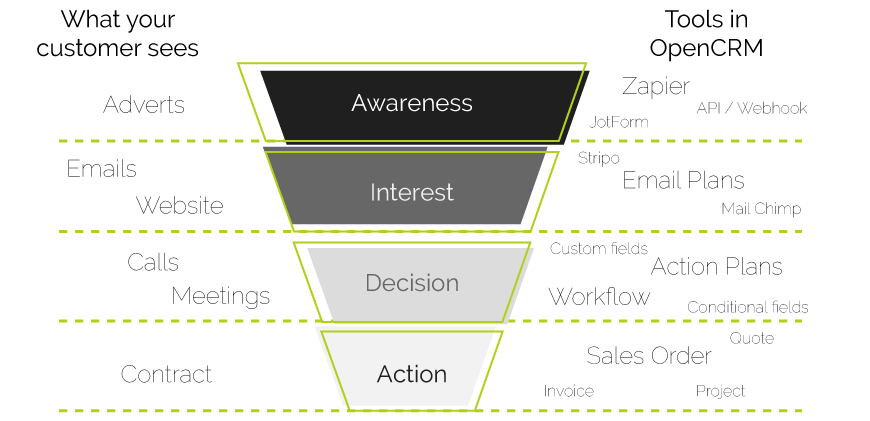 And there's one thing I want you to think about when you do: the only thing better than an effective sales funnel is an automated one. Consider specifically how your CRM could help you support and automate the processes with each of your sales funnel stages.
Imagine a world where you could move your potential customers from awareness to decision without you having to lift a finger. Here's an example case study to show you how!
Step 1 – Raising Awareness – Facebook Ad
Greg owns a Property Management company and is looking to make more sales. To do this, Greg knows he must build a sales funnel that starts with building awareness of his maintenance services.
Greg builds a Facebook ad which he will use to advertise his business to landlords in his area. He wants those potential customers to know he is an expert in property management. To do this, he creates his ad to advertise a free e-book covering his top 5 property maintenance tips.
To receive this e-book, potential customers will enter their name, phone number and email address as well as opting into Greg's mailing list. Greg puts his ad live.
Step 2 – Building Interest – OpenCRM Email Plan
Within a few days of Greg's Facebook ad going live, he starts to get some potential customers signing up for the e-book.
Greg has linked his Facebook ad platform to his OpenCRM system using Zapier. When each potential customer requests the e-book, their details are also used to create a Lead record within OpenCRM. Those Lead records are assigned an Action Plan and an Email Plan.
To keep up the potential customer's interest, OpenCRM's Email Plan will automatically send them an email with an additional infographic of supplementary property cleaning tips after three days.
After seven more days, OpenCRM's final Email Plan message will automatically send the Lead an email advertising Greg's paid services. This email contains a promotional video and trackable call-to-action links. That way the potential customer can click to find out more information on Greg's website.
Step 3 – Guide a Decision – OpenCRM Action Plan
After three more days, Greg's OpenCRM Action Plan clicks in. Greg has an automatic task in his calendar to give his potential customer a call. As part of Greg's sales funnel process, he knows the best way to show a potential customer the services he can offer is to conduct a property survey.
Greg calls up the potential customer using the telephone number OpenCRM stored from the Facebook ad. The call goes well, and Greg arranges a property survey for the following day. He books the survey into his calendar and sends a templated appointment email to the potential customer from his OpenCRM system.
Following a successful survey, Greg updates all of the details in his OpenCRM system using a specific Activity category with custom fields to hold the details of the survey. As soon as this survey Activity is set to Done, Greg will see a follow-up activity to call the potential customer back in five days. This is all managed using conditional fields and a bit of workflow -easy to set up and incredibly powerful.
Step 4 – Taking Action – OpenCRM Orders
Greg's calendar reminds him to call the potential customer back five days later. Greg calls and asks them if they want to proceed. They liked Greg's maintenance proposal and would like to begin working together.
Greg creates a Sales Order within OpenCRM and sends it to the customer to get the contract in place, and get the service started!
Hopefully, in this short case study, you'll see how OpenCRM can automate many manual activities at all stages of your sales funnel. Every sales process is different. But whether it's building interest or guiding your prospects to a decision, there are many ways a CRM system can help make the process simpler and help you close more deals!
In this article, we've taken a deeper look at the concept of a sales funnel. We've explored the sales funnel meaning, the benefits of an effective sales funnel, the critical stages of a sales funnel, and explored an automated sales funnel example using OpenCRM!
Thanks for reading, and we'll see you next time for another OpenCRM blog!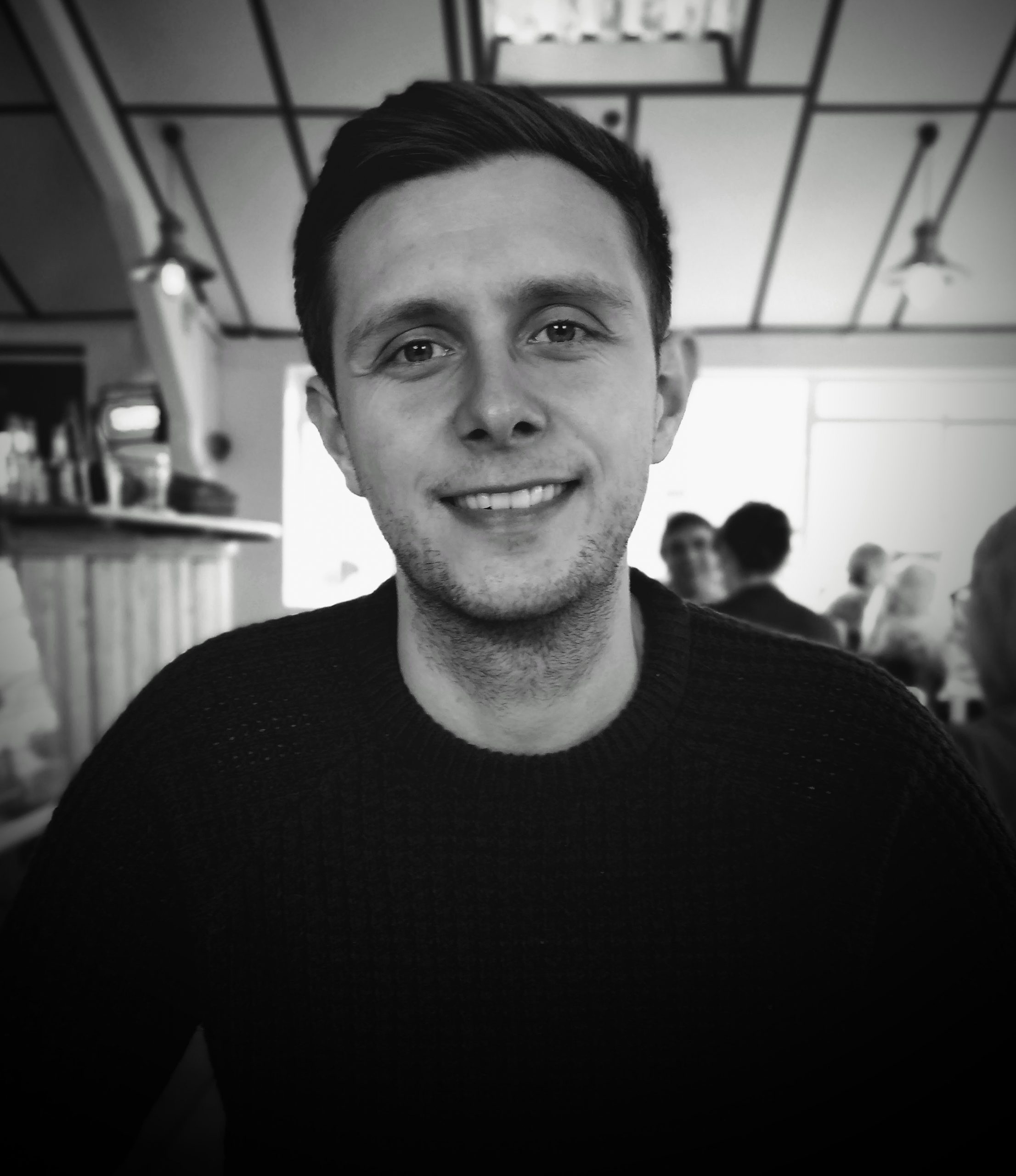 James Elliott is a Project Manager, Writer and Ex-OpenCRM'er from London. When not working to deliver projects, James writes on a variety of business topics as well as delivering online project management training. You can check out James' work on his website or by connecting on LinkedIn.