Sign your CRM Sales on the Dotted Line
31 Aug 2021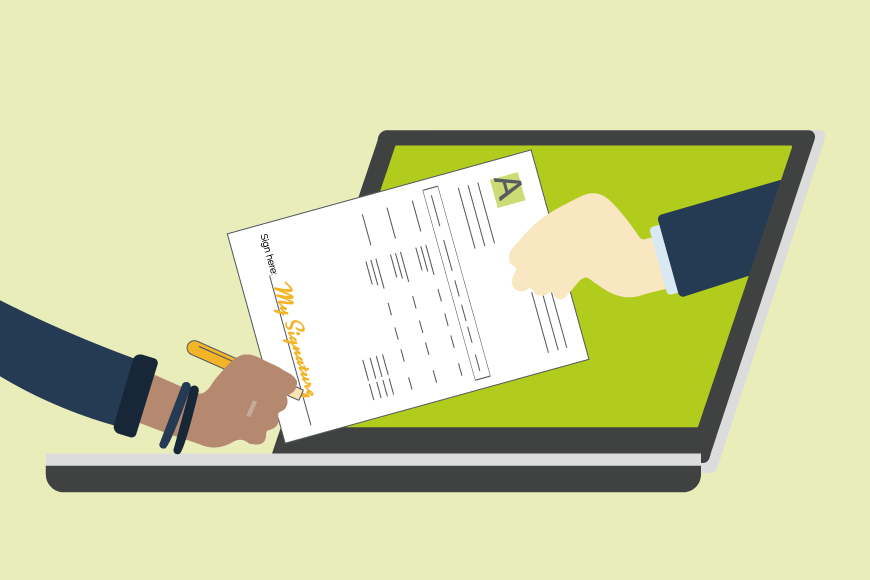 In this post we're going to look at how you can manage your CRM sales process using a CRM solution. In particular, we're going to focus on the point at which your client confirms the sale. One feature we'll be paying attention to is eSign. This is a digital signature that you can use on either Quotes or Sales Orders, whereby your client can approve an order.
In our blogs, we often mention the fact that no two businesses are the same. Therefore, the sales journey will also vary from one company to another. Someone selling Fast Moving Consumer Goods (FMCG) is likely to have a very short sales cycle without much fuss That said – although the sales cycle may be short, the research required is all-important. Industries such as Procurement will have a far more sophisticated sales process. In each example you nned to fine-tune your CRM to help manage the steps required.
From Suspect to Prospect to Customer
A quick clarification of terminology. A "suspect" is someone you suspect may be interested in your services. A "prospect" is when you have qualified that person and realised there is a real chance of making a sale. Of course, a "customer" is who you hope comes out at the end of the process.
Typically, your suspects come into the system as Leads. You might manually enter these as you come across them, or you may import a list of data. Another option is to allow your suspects to enter themselves into your database by completing a form on your website.
With the data in place, you can begin the nurturing process. You need to find out if the lead is a good match, in order to move them from being a suspect, to being a prospect.
Once you've established that there is a chance to do business together, it's time to flesh out the deal. That's when you would convert the Lead and bring them into your sales pipeline via an Opportunity. From the Opportunity onwards, that where your focus switches from lead nurturing to discussing the possible sale.
Your CRM Sales Modules
The sales modules comprise of Opportunities, Quotes, Sales Orders and Invoices. Peripheral to this you also have Purchase Orders that help you track the goods needed to fulfil orders.
This is where your own sales cycle will determine which elements you use, and how they are configured. For those selling FMCGs, you might go straight from Opportunity to Invoice, to document the completed sale. At the other end of the scale, you may go through numerous iterations of Quotes, before agreeing a sale with your clients.
It is important to note the order of these modules and why you use them in that sequence. The Opportunity is where you are projecting what piece of business you hope to sell. The Quote is where you can hammer out the details of the transaction. The Sales Order comes when you've reached an agreement, and this finalises that. The Invoice is the financial confirmation of the sale, which your accounts team can then manage.
The reason for performing the interactions in order is to make the most of some automations that are pre-configured. When you convert a Lead to an Opportunity, it will also set up a Company and Contact record, and inherit details of any actions you made with the Lead prior to conversion. As you create the subsequent entities – Quote, Sales Order, Invoice – each prior step is linked and so you maintain a complete picture throughout.
Behind The Scenes
There are a couple more areas adjacent to the CRM sales modules outlined above.
Project Management
If your sale involves delivering something more complex than a one-off transaction, you may consider using Projects. For example, if you sell newbuild houses – the project comes after the sales agreement, and contains all the milestones that occur whilst the house is being built. Therefore, it sits somewhere between the Sales Order and the Invoice – a sophisticated way of tracking what is happening at each sales stage.
Goods In
When selling physical products, either you have them in stock in a warehouse, or you need to order them from a supplier. That's when a Purchase Order comes into play. By raising a Purchase Order directly from a Sales Order, it will inherit the products that are associated with the Order. It will also give you options to instruct your supplier to ship to you, or directly to the client.
Internal vs Customer Facing
You need to log information to help manage your own CRM sales processes. Parallel to this you need to keep the customer engaged. In all the modules described above, you have the ability to do just that. Firstly – the in-house stuff. There are plenty of fields such as the name of the order, sales stage, products lists, buy and sell prices etc. Keeping track of sales stage and expected close dates etc means you don't let the order go stale. Tracking buy and sell prices means you can keep your eye on profit margins, Maybe you need to use a feature such as margin enforcement to ensure your sales people don't make that special offer just that little bit too cheap.
Of course, you won't be sharing details such as profit margins with your client. But there will be key milestones where you need to contact your client and share information with them. This can easily be done via email, with a well-designed PDF attached. There's no duplication of work – you log the details in one place, and decide which of those pieces of information you want to expose to the client.
As well as sending the client a PDF, you can also share details of the sales online, via a Customer Portal. You just need to set your client up with a log in to enable them to have a quick view of their sales history with you.
Sign on the Dotted Line
Sticking with the portal theme we just mentioned, there is another great CRM sales tool available. This is the ability for your clients to eSign – digitally sign their Quotes or Sales Orders – online. Once you've raised the order, you can send a copy to the client, with a link for them to access it online. The client can then review the details, and click to approve the order at their leisure. This is a great way of putting the customer in the driving seat. Once the order has been signed, the relevant people in your team need to be notified so they can get to work. For example, you might want to let Accounts know so they can get their paperwork sorted. Or this could be the green light for Production to make a start on the job.
We also have a great enhancement to this feature in OpenCRM. This is making its way to customer systems more or less as I type. This enables the capture of actual signatures, instead of merely clicking an Approval box. Check out our freshly updated FAQ for more details.
One Size Does Fit All
How's that for a nice contradiction to what we said at the start of this blog? Regardless of the components you use, it all fits into the CRM ecosystem, as part of the CRM sales process.
Once you are past the Lead stage, the starting point of a sale will be the Company and Contact record. Regardless of which components you incorporate into your CRM Sales journey, this will always be the same. From there you can easily navigate to linked Opportunities, Quotes, Sales Orders and Invoices. This gives you easy access to the customer's sales history. Based on that you can make informed recommendations to your customer base to cross-sell as and when applicable.
If you are already using a CRM system to record your customer details, then it makes sense to make it your one point of origin, allowing you to capture all the details and interactions based around your CRM sales.
My role is to build our Customer Success team and I work with our clients and prospects helping them get the most from their subscription – it is a fun challenging role as no two days are the same. When not in the office I'll be either making a noise on my guitar or getting my trainers on for a run out in the Yorkshire Dales, North York Moors or the Lake District.