Summer 2022 Release Notes
1 Jul 2022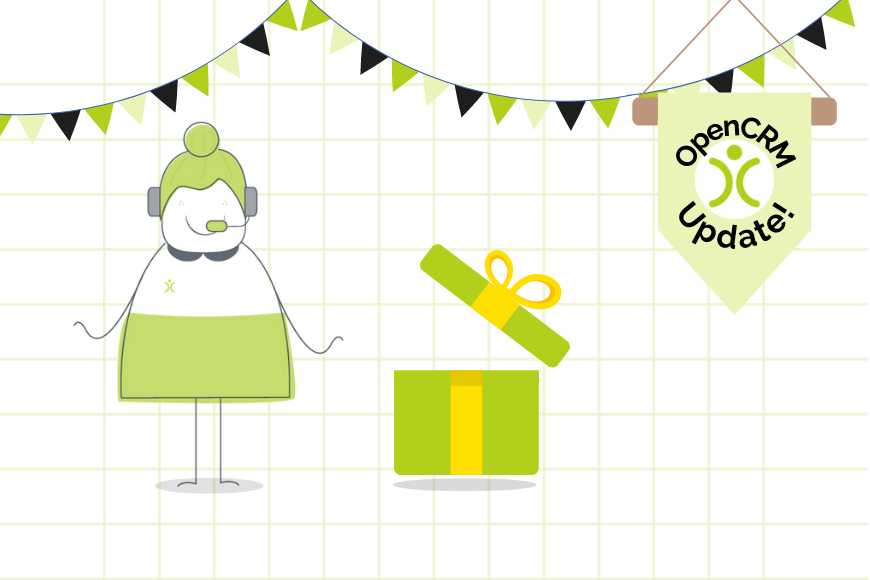 Your CRM is never a static project. As you bring new members of staff on board or interact with new categories of clients, you need to keep your system up-to-date to keep making the most of it.
Similarly, our process of keeping OpenCRM evolving is also in constant motion as we bring in new features and enhancements. Reasons and motivations for these will vary, but our clients (ie you guys) play a huge role in helping us determine that journey of evolution. Rather than guessing at what you like or need, we are always open to your suggestions as to how we can make OpenCRM work even better for you.
And so onto the goodies we've prepared for Summer 2022…
Activity Management
Keeping your database alive through communication and interaction. Activities help you record and track the history of what's going on with all your clients, opportunities and more.
Oldest or Newest Activities first – you decide
Your past, present and future Activities are visible in Pending (anything outstanding) and History (anything completed) sub-tabs across the various modules. The default is to display them order of newest first. We have added the ability to switch this around so you can display the oldest Activities first.
Extra options when it comes to Activity Ownership
By default, if you reassign an Activity, it will still be visible to the original Activity owner and will have a link to that person in the User sub-tab on the Activity. The idea is that it provides easy visibility of an activity even if you have handed it onto someone else. However, there may be times where you want to pass it on and leave it behind. We have added an Additional Setting that allows you to alter this behaviour: "When changing activity assigned to, remove the original owner from the activity".
Creating Activities from Timeline
We have added some functionality to the Timeline & Heartbeat feature. This gives you the ability to create Calls, Tasks, Meetings and Notes on the fly. A slide out panel accessible from the timeline enables the quick creation of activities without leaving the current page.
Project PDFs
To help you paint the full picture of what's going on when delivering jobs, we've added the ability to use Portrait orientation on Project PDFs. When editing the PDF, you'll find a dropdown field that allows you to switch between Landscape and Portrait.
Sales Features
From Opportunity through to Quote, Sales Orders, Purchase Orders and Invoicing, OpenCRM offers a comprehensive solution to help you manage your sales through to conclusion. Here are the latest features and enhancements on offer.
The ability to push Purchase Orders from OpenCRM to Xero
For a few years now, we have had an integration with accounting package Xero that enables you to push Invoices and related information – Company and Product details – from OpenCRM to Xero. We have now added the ability to send Purchase Orders to Xero. This is a one way push – no information is updated in OpenCRM from the PO in Xero.
Xero Reference on Company records is more easily editable
We've added what sounds like a minor enhancement but is important when you need it. You now have the ability to edit the Xero reference that is shown on the Company record.
This becomes useful when you have edited (for example deleted or renamed) Companies in Xero, which can sometimes cause a mis-match in Xero references. That in turn prevents you from pushing Invoices for those clients. This enhancement addresses that.
Add Product Weight to Quotes
In order to help you calculate shipping costs, we have a feature on Sales Orders whereby the Weight (stored against Product records) of all products sold is logged as a total in the "Order Weight" field. We have extended this feature to the Quotes module.
Marketing Enhancements
More and more of you are embracing the marketing functionality of OpenCRM. With the range of options available, it's not hard to see why! Here's the latest news around marketing.
Email Opt Outs and MailChimp
If you are using our integration with MailChimp, that means you will be dealing with lists of Contacts in both applications. This potentially includes people who may have opted out of emails on either of the platforms. Up until now, contacts marked as "Do Not Email" were excluded from syncs to MailChimp, but we have added a setting to manage that.
Contacts who have previously been synced to MailChimp can be unsubscribed from the MailChimp mailing list by being set as "Do Not Email" in OpenCRM. This is controlled by an Additional Setting: "Include contacts flagged as "Do Not Email" when syncing to MailChimp".
Custom Contacts and Events
Did you know that you have access to a second (and indeed a third) Contacts module. These are called "Custom Contact" and "Custom Contact 2", and they give you a further way of segmenting your databases. Read here to find out more about these modules.
We've added an enhancement to the Custom Contact module, to allow the people stored in this module to be linked to Events. A sub tab has been added to Events and Add to Event buttons added to Custom Contact consult, list and report pages. Check out this FAQ for an overview of what you can do with Events in OpenCRM.
Campaigning and Event Management Hand in Hand
Two modules often used for marketing are Campaigns and Events. Therefore, it makes sense to offer links between the two. In this enhancement, we have added new buttons to Campaign list screens (Contact, Lead and Company lists).
"Add All to Event" will add all records in the list (based on any filters applied) to a selectable Event. Similarly, "Move All to Campaign" puts all records in the list (based on any filters applied) to a selectable Campaign, with the additional option of removing them from the current Campaign as well.
Email Enhancements
Earlier we talked about Activities being the life's blood of your system. For many of you, including Emails is just as important when it comes to keeping your finger on the pulse of your business.
Creating Contacts From Emails
We've added a new option to Additional Settings to allow further fields to be used to find a company to link to when a new Contact is made by Pop2Opencrm. Originally, it would compare the recipient/ senders email domain name to the company website field. It is now possible to also look at other fields (still comparing to the email domain of the sender/ recipient).
Maintenance and the Back-End
Pop2OpenCRM Enhancements
Pop2OpenCRM is our email integration that brings your in and outbound emails into OpenCRM. We have been working hard behind the scenes with a few enhancements in this area. These include:
A gradual move of some of the settings into the interface, making the set-up easier to manage internally.
Support for MS Auth authentication.
Improved error trapping and retry for a more successful mail delivery.
Updated mail parsing component which is more robust to emails with large numbers of recipients.
Workflow and Deletions
We are always adding new functions to our Workflow engine. This time around, we have added some options to run workflow when a record is deleted or undeleted. Workflow should always be treated with a certain degree of caution as outcomes can potentially be destructive to your data, and as such, this enhancement is not yet available to the interface. If you want to set up Workflow along these lines it will need to be requested via OpenCRM support.
And that's it for this time. Keep your eyes peeled for our next update and, as always, if you have any suggestions for new features, we'd love to hear from you.
My role is to build our Customer Success team and I work with our clients and prospects helping them get the most from their subscription – it is a fun challenging role as no two days are the same. When not in the office I'll be either making a noise on my guitar or getting my trainers on for a run out in the Yorkshire Dales, North York Moors or the Lake District.