Winter 2022/ 2023 Release Notes
17 Jan 2023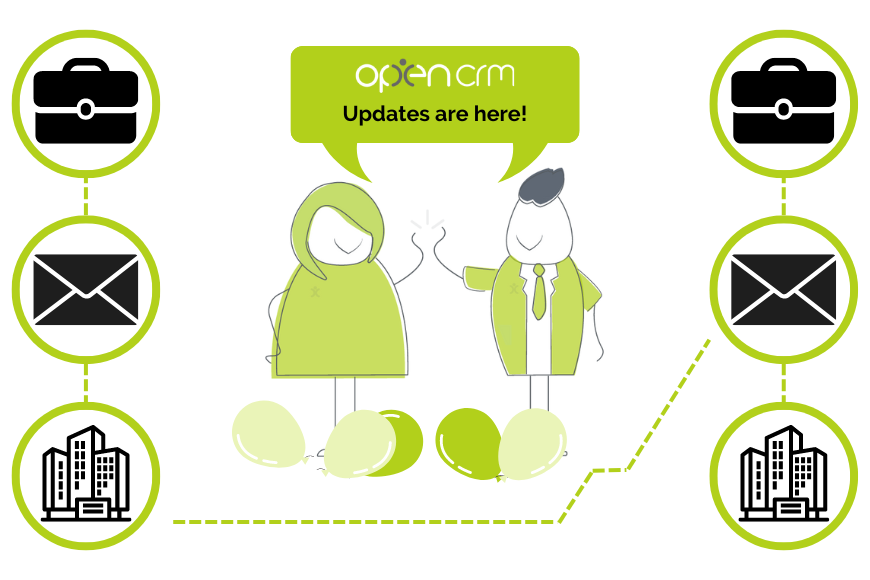 We spent the last weeks of 2022 putting the finishing touches to a number of tasty new features ready to serve up to you in 2023.
Boost Your Productivity
Making the most of Timeline
I'm sure you are familiar with the concept of how the data in OpenCRM fits together. On a Company record, you can scroll to the bottom to access linked Contacts, Emails, Activities, Opportunities, Tickets and so on. Did you know you can access similar lists – without scrolling – by opening the Timeline feature on the right-hand side?
What's more, you can pick and choose which modules are represented in the Timeline to help you access that vital information in the blink of an eye.
We have now added the ability to do a keyword search on Timeline to narrow down the results even further so you can get a really granular overview of your interactions with your OpenCRM.
What's more, user preferences are now saved, meaning that your bespoke Timeline configuration will be replicated across the different browsers and devices you use to access OpenCRM.
Exploring far and wide – introducing Integrations
You are probably aware of some of the integrations we offer – especially the more popular ones such as Pop2OpenCRM for emails, webform integration with Jotform and accounts integrations with Sage50 and Xero. To help you make the most of what is available if you are an Admin user you will notice an icon on the left sidebar which takes you to our Integrations page. Why not take a look and see where else you could make OpenCRM work for your business?
Action Plans – Description and Category
Action Plans give you the ability to preconfigure one or more Activities. For example, if you have a new customer welcome process, you could automate this using an Action Plan. Even better, you could use the Status of "Customer" to trigger the Action Plan automatically. They are available across all the relevant modules, so do think about which processes would benefit from a more structured approach! We have enhanced Action Plans by letting you add a Description and set the Category for the Activities.
Marketing Campaigns and Event Management
We are finding an increasing number of you are making the most of the marketing capabilities in OpenCRM, and so we have added a couple of new enhancements in this area too
MailChimp and blank values
Our integration with MailChimp enables you to use the familiar platform of MailChimp to design and send your email campaigns, whilst using OpenCRM as the database that powers the lists/ audiences. With the sync, you push data relating to the Contacts between both applications. One useful enhancement we have added is to allow you to push blank values across. This means that if you have blanked a value (for example a Tag) in OpenCRM, you want that blank to update in MailChimp, rather than ignoring that information and leaving your data out of sync.
Event Management
Our Events module is an embedded feature, and we have added a few enhancements around the management of Events and Attendees. Firstly we've added the ability to add a list of Attendees to an Event PDF. This is a great way of e.g. sending your Tutor a list of people coming to their session. What's more, the list is put together when the PDF is created which means it will be as up-to-date as possible.
We have also extended the functionality around generating Email Plans for Events. You can now select a PDF template to attach to an email generated via an Email Plan.
Reports and Campaigns
Did you know that one way of adding people to a Campaign in bulk is via a Report? We have made an enhancement whereby you can add people to a Campaign if the Contact or Company field is included in the Report. You can do this without having to use the Contact or Company module itself in the report so it opens up more options. One powerful example would be to report on Sales Orders and Products, to send a Campaign to Contacts who have bought a particular Product in the last 12 months.
Resources
As well as striving to improve OpenCRM itself, we are always looking at ways of helping you get the most from your experience. Here are a couple of pieces of work we have recently delivered.
Live Chat with FAQ component embedded
Since we have been actively promoting our embedded live chat component, approximately 65% of our helpdesk enquiries have come in via chat rather than calls or emails. This is a huge transformation for both us and you, as it means you are waiting less time for updates on your questions.
In addition, we have embedded our Knowledgebase into the chat component, meaning you can access online help without leaving the screen you are on. Simply search for the relevant FAQ and use that as you go.
Webinar series
If you are wanting to embed OpenCRM into your business in more ways, but don't quite know where to start, then I think our Webinar series may be able to help! These webinars walk you through various scenarios, demonstrating various features that may be of interest. So far the series features a deep dive into Campaigns, some thoughts on Data Management and a Reports Overview. Look out for more webinars on Automation and Event Management coming soon.
Customer Portal
To finish with, a little enhancement that may be of interest to those of you using your Customer Portal to let your customers carry out eSigns, log tickets, update their preferences etc. If you want to enable the feature to remember and keep users logged in, please contact our support department to get this switched on.
My role is to build our Customer Success team and I work with our clients and prospects helping them get the most from their subscription – it is a fun challenging role as no two days are the same. When not in the office I'll be either making a noise on my guitar or getting my trainers on for a run out in the Yorkshire Dales, North York Moors or the Lake District.