10 December 2019
10 Dec 2019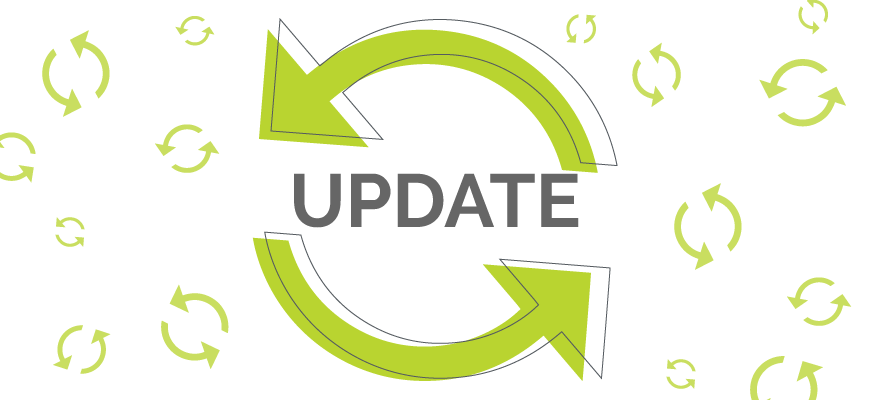 We've got a bundle of great new features and enhancements in this latest update.
Our team has been busy building on our existing integrations, adding a few extra bits to our import functionality, and spending some time tweaking different elements in our interface.
But first…we've added something for all of you who enjoy really digging down into your data:
Searching on Reports
It's been a while coming, but off the back of our new keyword search panels, we've added the ability to search our Reports module.
Simply type in a word that appears in the title (or description) of your Report and away you go. You can even filter your results to only show those Reports that are scheduled, just click the little clock icon. It's great when you're trying to find and edit one of your automated Reports.
To learn more about this great new feature, why not check out our overview of the Reports module.
Integration Enhancements
We've made some major and minor enhancements to two of our most popular integrations…
JotForm
JotForm recently added the ability to include optional prefix and suffix fields to the "Full Name" field type. This means that you can add "Dr" or "OBE" to the beginning or end of a person's name.
We've added support for this to the JotForm mapping page within settings. Click to read more about how this works here.
Zapier
Our enhancements to our Zapier integration are a mix of a minor enhancement and one fairly major feature.
Let's start with the minor one.
You can now use dropdown or picklist fields, with their correct values, when building a Zap. Seems minor, but actually very useful if you need it.
And now for something really exciting: duplicate checking on records being created from Zapier.
That's right, you can now specify up to three fields that will be used to match this new record to possible existing data in OpenCRM. If you'd like to read more about how this works, have a read through our Zapier Knowledgebase article.
Important Import Improvements
Quite a lot of the "smaller" enhancements that go into one of our updates are raised by customers who have a particular need or question about the way the system works.
Just like us, they use the system every day and occasionally find stuff that we've missed. Or have suggestions for what can make the system better. And that's the case with two improvements to our import functionality that have been included in this latest update:
Improved processing of mandatory fields
We've altered our import code to skip mandatory fields with the import is being used to update records rather than create them. In many cases, these fields weren't necessary and simply created extra work.
So, we streamlined things to make it easier for everyone.
Import to Social Network fields
We've got to put our hands up on this one…we just missed it! Luckily our customers are always looking out for us.
You can now import to the Social Network fields on Leads, Contacts, and Companies.
Keeping our Interface Fresh
It's very important to us that our interface both works for our customers and is pleasant for them to interact with. Achieving this isn't something that happens overnight, we are constantly reviewing our processes and look for ways we can improve on what we do.
And with that in mind, we'd like to talk about a few of the enhancements we've made to our interface over the last few months:
Default Calendar Filters
We have added a new setting at the user level that allows each person to set what their default Calendar filter should be. This (or course) respects existing permissions, but means that a PA could start their day looking at their boss' Calendar, rather than their own.
Or a manager could show a particular Team's Calendar by default in order to better keep track of how everyone is progressing.
Additional screen layout options in Activities
It is now possible to set the Reminder and Notification blocks to be automatically expanded or collapsed (depending on your preferences) within the Activities module.
Improved screen layout options for Activities within Opportunities
You can also set the Schedule Activity block to be automatically expanded (with the default period selected) on an Opportunity. This means that you can trigger your salespeople to always create a Follow Up Activity every single time they edit an Opportunity.
Every. Single. Time.
General improved screen layout in Opportunities
Sticking with Opportunities, you can now also hide the Activity or Revenue Forecast blocks completely. For anyone who doesn't use these blocks, it just helps to streamline your screen.
Display Commission in Sidebar
We've got a lot of sales focused interface improvements this time!
It is now possible to show a user's current commission value in the sidebar, up to five digits, right under the target.
Better focus for click to dial
For anyone using our Click to Dial feature, we've added something just for you.
We've made a few changes in the way OpenCRM interacts with your browser, which means that the Click to Dial Popup Activity will be prioritised for focus.
This means that if, for example, you get a browser confirmation on your screen in the middle of a call, the moment you close it, you will be taken back to your CtD Activity. Helping you stay focused on the important task at hand.
Portal Confirmation Popup
When uploading a file to the portal, a message is displayed to confirm that the file has been successfully uploaded (or to inform the user if for any reason it failed to upload).