8 December 2020
8 Dec 2020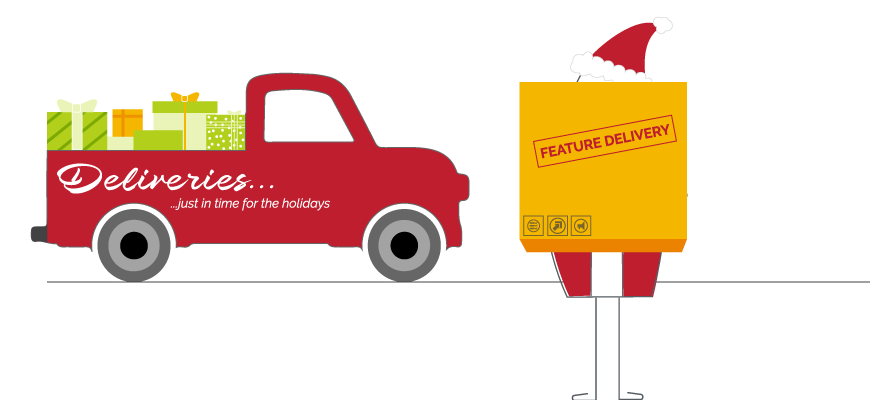 Just in time for Christmas, we're sending out a box of brand new features and enhancements to all of our customers.
This new release includes an extension to one of our integrations, some great automation features, a couple new customisation options, and a few other things we snuck in just for fun.
So without further ado, let's unwrap those goodies!
Xero Integration Update
We've updated our integration with Xero that supports continuous connection and gives you the ability to set the default Invoice status when posting from OpenCRM to Xero.
You can also now have multiple Xero organisations connected to OpenCRM.
If you'd like read more about how our Xero integration works we have an in depth knowledgebase article all about it.
Automation
This release includes two updates to the automation tools within OpenCRM.
Workflow: Any / All Conditions
You can now set whether ALL your workflow conditions should be met before triggering the actions, or whether ANY of them will do.
The best way to illustrate this is with an example.
Let's say you want an Activity created and assigned to the relevant salesperson as soon as a Lead is assigned to them. But not when a Lead is assigned to another member of the team.
Before, you would need to have individual workflow set up for each member of your sales team.
Now, you can have a single workflow rule with all of your sales team listed under the conditions. The Activity will be created when a Lead is assigned to any of them.
To learn more about setting up workflow in OpenCRM, the best place to start is in this FAQ.
Email Plan Enhancement
We've changed the way you can schedule Email Plans to improve and extend the functionality.
You can now select a date field on the record and run the Email Plan off that field. So if you want to send an email 2 days before a Contract End Date, for example, you can do that.
Additionally, you can specify a specific time that email should go out.
If you'd like to learn more about our Email Plan functionality and how you can set up Conditional and Polled Email Plans, please have a read through this article.
Customisation
In addition to enhancing some of our automation tools, we've also added and enhanced some of our customisation tools.
Updated Layout Interface
Although incredibly powerful, our old interface for building custom layouts was…well, let's just say it wasn't as good as it could be and leave it at that.
So we updated it.
This new version not only looks a lot better than our old one, it has a bunch of great new features that will make it easier to use:
Searchable field list – that's right, you can now search for the field you want to add.
Add Spacer button – you no longer have to create a spacer custom field in order to add a blank space in your layout. Just click the button and one shall appear.
Drag and Drop block – want to change where a block appears on screen, just pick it up and drag it to the correct spot within the Layout Builder.
Import System Default – don't want to start from scratch with your layout? That's fine, just click to import the system default layout and then edit it as you need.
And of course, all existing Layout features are still available, including setting a profile or record to have a default Layout. If you'd like to read more about how you can use Layouts to customise your users' experience, have a read through this FAQ.
A New Kind of Conditional Field
At the minute, you can have a custom field appear on screen only when another field has a specific value. For example, you might want a "sales region" field to appear only when the Company billing address is set to the UK.
We've now added the ability to make a further type of condition. This will force a field to become mandatory only when another field has a specific value.
So again, when the Company billing address is set to the UK, you may want that "sales region" field to be mandatory. Or you might want a completely different field, like "favourite local pub" to be mandatory.
If you'd like set up some of these conditional fields, why not start by reading this how to article.
Permission and Security
This new release will also give you a bit more flexibility in controlling the permissions around your Activities. It mimics behaviour that you already have available to you in both the Contacts and Companies modules.
With it, you can give one or more users full ownership permissions to an Activity that they do not otherwise have permission to view or edit. All you have to do is add their user to the Activity User subtab.
For example, if the Activities for your Managing Director are only visible, but not editable for 90% of your users, no one can add their notes ahead of a shared meeting. But, if the MD adds all the attendees directly to the Activity, they will now be able to edit it as if it was their own.
The permissions model for OpenCRM gives you so many options. To find out more, have a read through this article.
Importing to Product Grid
If you use the feature that allows you to import directly to the Product Grid, we have some good news.
You can now import the link to the Supplier Company as part of that import.
To find out more about this feature from this FAQ.
Activity Scoring
And last but certainly not least, we've extended our existing Activity Scoring feature. This new enhancement gives you more control over the scoring itself and also means that any aggregated score on a Lead is carried over to the Contact and Company upon conversion.
If you think you could benefit from using our Activity Scoring feature, have a read through this article.
If you'd like to know more about the features released in 2020, have a look at our Look back at 2020 Infograph.