Keeping an Eye out for the Best Sales Tools
18 Apr 2016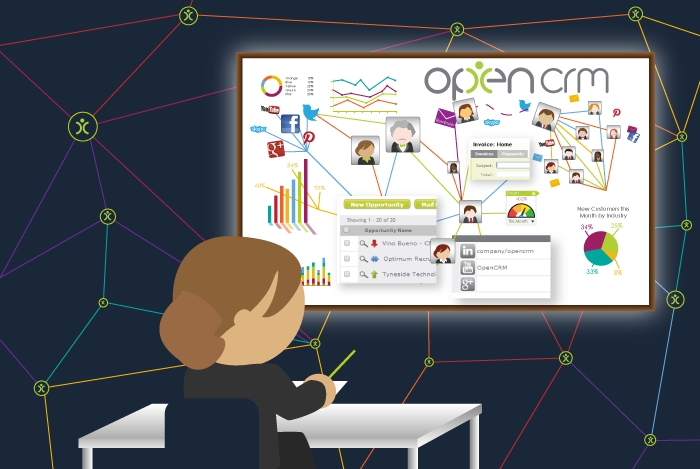 I'm a very visually orientated person. I have always learned best by observing how to do something, from riding a bike to driving a car. That's why for me, I really like to utilise the visual tools in OpenCRM as it gives me the chance and ability to refine and easily navigate through my day-to-day activities.
You'll see a lot of these same visual tools throughout OpenCRM, but I'd like to focus specifically on the ones in the Opportunities module, because I'm part of the sales team and that's where I live. The three visual tools that I use most frequently in OpenCRM are:
The Opportunities Pipeline Graph
The status icons in the same module
The date colour coding
Understanding the best way in which to utilise these dynamic features can make identifying where you are with your business opportunities a breeze, just by looking at the module homepage.
The Pipeline Graph
| | |
| --- | --- |
| | This is how it appears on the Opportunities Module homepage. Clicking on this icon brings up a bar chart for you to develop to suit your needs, like this for example; |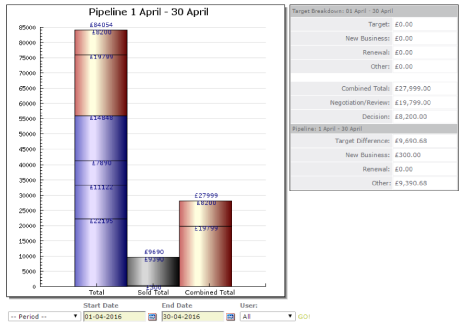 The fields at the bottom of the page allow you to edit what the graph shows you. For example, what period of time shown and whose graph is displayed. You can further narrow down the data it returns to show you a chart for a specific date.
I find this tool to be an invaluable feature, as it motivates me as a dedicated sales person to continually meet my targets, and I think it would be as equally invaluable to any motivated sales person who is looking to succeed.
Status Icons
| | |
| --- | --- |
| | The green upwards pointing arrow indicates that this particular business opportunity has increased in value, if you have a lot of these on your module homepage you should be very happy. |
| | The next icon though, not so much. This arrow means that the opportunity's value has decreased from what it originally was. Definitely not what we want. |
| | This arrow is in the middle. It means that the original value for the opportunity has neither decreased nor increased. The neutral zone. |
| | This icon indicates that the opportunity is due to close soon, hence the finish line flag, signifying that you are near completion with that particular opportunity! Go you! |
| | This icon, although it is a typical 'Do Not Enter' sign, it does not mean that you cannot do anything else with this particular opportunity marked by this symbol. It means that the opportunity has been ongoing longer than expected, so you best get cracking. |
The status icons really help on a busy work-day schedule, you can easily identify where you are at with a business opportunity, and how to move forward.
Colour coding
Colour coding is used in all of the modules in OpenCRM. Like the icon system, it means that you can easily identify the status of everything you do in OpenCRM, whether you have an overdue task or an opportunity that is near to meeting its close date.
In the Opportunities module, colour coding is used to aid the use of the status icons, in that the colours of an Opportunity name indicate how close the Opportunity is to the expected close date.
Red

is used to show that the Opportunity has surpassed its expected close date, and therefore giving you and your team a clear insight into not only where the Opportunity is at, but also how to move forward, potentially bringing the expected close date.

Green

coloured Opportunity names means that the Opportunity is due to close very soon, giving you leeway to get any business deals signed off in time.

Grey

means that the Opportunity has a while before it will meet its expected close date.
The best thing about OpenCRM is how customisable it can be, not only does it allow your system to meet your needs but it also reflects and enhances how you do business. The visual tools in the Opportunities module and throughout OpenCRM not only make it easier for you to acknowledge and meet your targets, but to identify where you need to focus your time.