It means something to be an SME…take it from us!
9 Apr 2018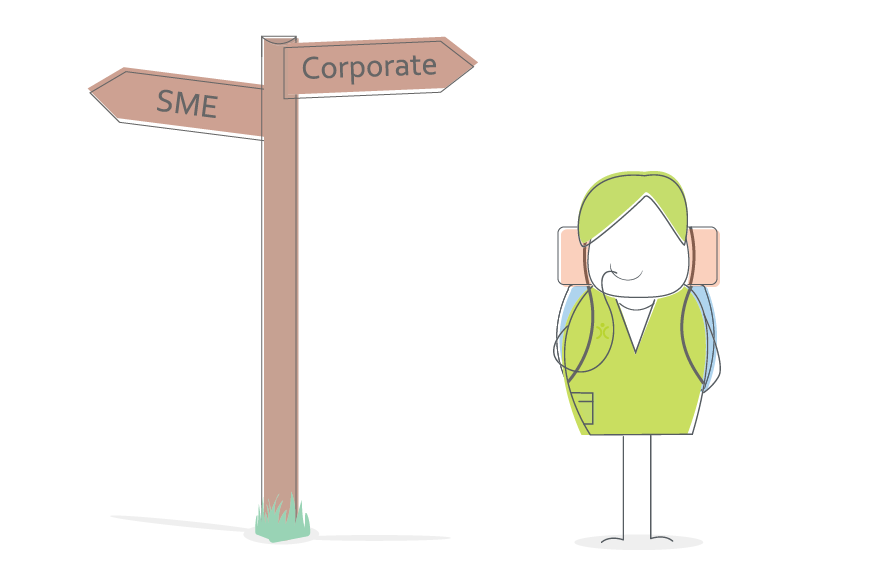 What is an SME? And what is the difference between SMEs and Corporate businesses? How does the affect they way people use a CRM system?
So many questions for one little acronym!
Well, let's start with the easy bit. An SME is a Small or Medium Enterprise (business). It refers to businesses that have fewer than 250 employees. SMEs account for 99% of companies in the EU!
So they're pretty important.
SME and Corporates: a different business journey?
I recently heard a radio ad that went along the lines of "SME's: Work all day, worry all night business owners" and I think all SME business owners would agree with that.
But is it really that different if you are in the corporate world?
As an SME, you may make a decision within your business that gives you a 1% growth in turnover allowing you (or preventing you) from employing that extra person that makes you as a business more efficient. Working within a Corporate you may have to make a decision that gives you 1% growth that increases turnover from 200 million to 202 million (no small sum) would both scenario's cause you to be a little restless at night?
…and this can go on to every level.
SMEs and CRMs
It's one of the reason why we don't restrict which areas of the OpenCRM you get access to based on the number of users you have. All businesses need to carry out similar activities…and all managers and owners will have sleepless nights around whether are not these things are getting done.
As a sales person, the questions I ask business owners are the exact same, regardless of the size of the business. They are:
Do they have set Activities they need to perform?
Do they think time management is something that they need to get better at?
Do they have KPI's and targets to achieve?
Do they need to attract and manage new and existing clients?
Do they want to grow? (this can be size, turnover or profit amongst other things) …the answer is always yes
The list goes on.
Whichever journey you are on, the exact terminology and responsibilities may differ, but many of the things that need to be done day to day, week to week and month to month could be very similar and that is where a good CRM system comes in.
You will have tasks to manage plus the ability to see if others are managing their own tasks ok, relations to nurture and maintain, reports to create, KPI's and targets to see. Being able to do all this in one place (along with a massive amount of other things) gives you the visibility you need, the control you want and the outcomes you desire.
I am a Business Development Manager here at OpenCRM helping businesses to get the most out of their CRM system. If a system is easy to use you are more likely to use it! Danny's free tip No1.
Away from OpenCRM you will probably find me out walking with my better half, entertaining my grandson. or on a football pitch somewhere. I know what you're thinking and yes it is time I retired!