Digging in or Stepping out? Customer Acquisition vs Customer Retention
27 Jun 2022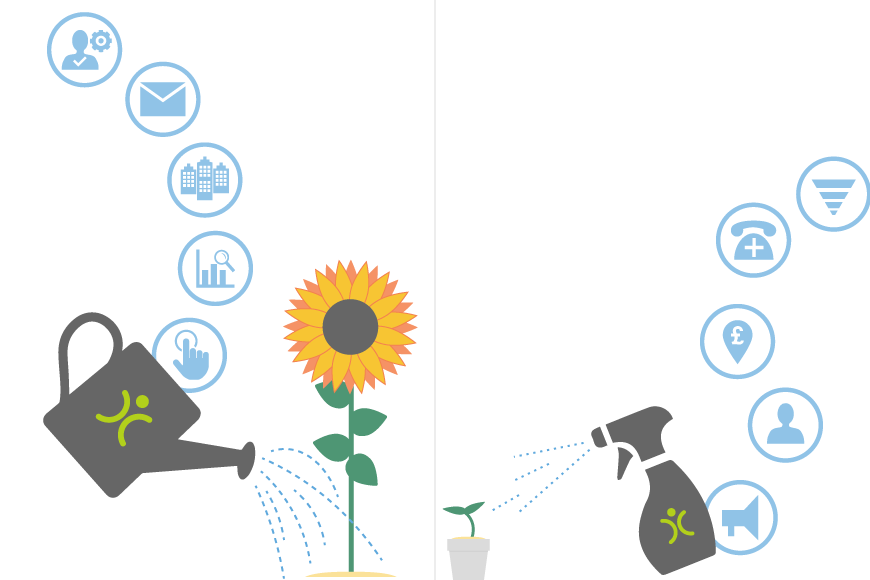 In this blog post we're going to look at strategies you can aim for when growing your In this blog post we're going to look at strategies to aim for when growing your company: customer acquisition or customer retention. Gaining new customers (aka stepping out), or doing continued business with existing clients (aka digging in). Of course, the two are not mutually exclusive. Newer businesses focus on gaining customers, but all businesses should also ensure they keep their customers happy. Having a CRM system at the heart of your business provides the tools to manage both of these goals. In this blog post we are going to dig a little deeper into the wealth of features available to help you with this.   
Stepping Out – your Customer Acquisition Plans
To state the obvious – when you start a business from scratch, you are unlikely to have any customers. Therefore, you need to get working on your customer acquisition strategy. Assuming you have done some market research, you can start to customise your CRM to capture information specific to you. Fine-tuning lists such as Industry sector, job title, or location means you will be capturing data that is relevant and actionable. If you want to carry out some targeted marketing to a particular sector, that audience is easily identified. 
Sales Pipeline
Once you have identified potential customers, you need a fool-proof means of assessing if you are a good match for each other. That is where your sales pipeline comes in. Having a good pipeline tool gives you so much information at a glance. When an Opportunity was started, and when you expect it to close are good starting points. Obviously, the value is paramount, as is the sales stage. You need to see which deals you might want to focus on if you're nearing the end of the month and your target is looking some way off! From a managerial perspective, it is important to have an overview of the workload of your sales team. All these factors mean your sales pipeline is up to date and should prevent those good deals from falling between the cracks. With the pipeline in place, your customer acquisition strategy is off to a good start.  
Revenue Forecasting
A logical step from working your pipeline is to figure out when you are likely to see that revenue come in. Maybe you work on long-term projects which a deposit followed by phased payments. Or you may run a subscription service where revenue will come in at regular intervals. Your financial planning will be greatly enhanced by knowing when your business is likely to receive income. As you would expect, CRM systems such as OpenCRM offer you the ability to track and report on those projected figures.
Referrals
When it comes to the buying process, customers are more empowered than ever before. Instead of relying on your word that your product is the best there is, they can find a wealth of information about you online. Reviews and social media comments are a couple of examples. One way you can tap into this is by encouraging referrals. This entails finding people among your business contacts who are likely to help out. The comments made by those contacts about your products or services will be of huge value. As well as making direct referrals, you can encourage your clients to leave reviews on sites such as G2 or Capterra. Peer-based customer acquisition is a great way of helping business growth.
Lead Scoring
The two ways in which data can be updated in your CRM system are either manual or automatically. There are so many interactions which need that human touch, but you can also do some clever things with automation. One great function permits you to automatically aggregate scores against a Lead record. That score can depend on certain criteria being met. For example, someone is a decision-maker for a company in a sector very interesting to you – that gives them an initial score and they become a priority in your customer acquisition strategy. That can be aggregated with each subsequent interaction.
Make Yourself Available
No doubt you have a website, social media accounts, a phone number and an email. The key is to make sure you have the tools to record a person's details when they contact you. Here are a couple of tips that might help you with that data capture. A really simple option is to put a Contact Us form on your website.
Jotform is a great form-building tool and the integration with OpenCRM means it couldn't be easier to get that data into your CRM system. Once the info is there, you could use some automation to send some targeted emails. There are many options to help you make the most of this data. A second option involves some email integration. As well as copying your in and outbound emails into your CRM, did you know your system can also be configured to automatically create new Contact records that are sent to specific email addresses?
Hopefully these options give you some food for thought. Essentially, you need to offer whichever your client's preferred method of contact is.
---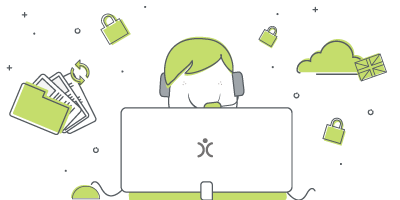 GDPR: your data, your rules
We've always put data protection at the heart of OpenCRM. So with the introduction of GDPR, we've added new tools and features so you have the control you need to implement your policies and achieve compliance.
find out more
---
Strategy for Customer Retention
Parallel to establishing a customer base, you need to work on customer retention. In fact, many businesses can only survive by making repeat business. Just think of those subscriptions that are incredibly cheap initially before switching to a regular monthly tariff. They would be hard-pressed to survive on just that initial amount. In this section we are going to look at ways in which your CRM can help you take those seeds you have sown to make them truly blossom.
This really is the key. With the initial sale, you have done a lot of hard work "getting to know the customer". You've already gone through the hoops to ensure you and the client are right for one another. Once you have established that mutual benefit you can see how both parties can make the most from the relationship. The close of that first piece of business is actually just the start of the journey…
Account Management
One thing that can be quite tricky to manage is the issue of how often you should get in touch with your clients. If you message them too frequently, you risk irritating them, perhaps inviting them to unsubscribe from your communications. But a hands-off approach can also be dangerous. Let's face it, we are online for more than we care to admit. Therefore, there is every chance that offers from your competitors are surfacing here and there. In your absence, those names might sound appealing and you are at risk of failing on your customer retention plans.
Within your CRM you have plenty of date and time stamps that tell you when you last spoke with a client. System fields such as Last Email or Last Call give you an easy audit trail with that information. Furthermore, fields such as Preferred Contact Method tell you where your clients are at their most receptive. All these details give you the tools to carry out your account management as efficiently as possible.
Customer Success
One relatively new role within an organisation is that of a Customer Success Manager. This job sits somewhere between various stools. This is not the same as support – their role isn't to put out fires. Nor is it a sales role – the purpose is not to get people to sign on the dotted line. But it is somewhere in between, with the focus being on keeping customers satisfied. In fact, customer success could be considered so important that it is hard to imagine how you manage without it! In an ideal situation, it helps you position yourself as a partner rather than a supplier, thereby changing the traditional dynamic of a customer to service-provider relationship. Make those points of engagement meaningful rather than just for the sake of it. Customer retention is key to ensuring those regular revenue streams don't dry up, and customer success is at the forefront.
Turn a Frown Upside-Down
When your clients have a problem, they are likely to get in touch with your frontline support team. Sometimes it's just a simple enquiry, or an issue of user error. At other times it can be more serious and needs investigating right away. To help you manage this, you can configure Service Level Agreement (SLA) times based on ticket severity, to ensure that urgent issues are given the relevant priority. Subsequently, you can review and report on questions logged. These offer a chance to right a wrong and improve your standing with clients. It shows that you listen to their pain points and aim to address them.
When Good Things come to an End
Sadly, business relationships come to an end all the time. It could be down to any number of factors. A company might cease to trade, or get bought out by someone else. They may restructure, and realise they no longer need your services. But it could also be that a competitor has launched an amazing new product, or that something went wrong along the way. Broadly these can be split into reasons you can manage, and those outside of your control. There are a number of things you can learn from this.
Firstly, if a client has left on amical grounds, you may still retain them to help with endorsements or referrals. If the parting was something you could have prevented, then you have the knowledge required to improve your service. Ignore this at your peril! Perhaps though it's not too late, and you can still retain the client by making some adjustments. You might identify trends where there is a lull in the relationship, and so you can proactively manage this danger area.
Get the Customer Involved
If you are logging your customer transactions through your CRM, if is fairly easy to identify their areas of interest. One great way of helping both yourself and your customer is when it comes to new product development. Once you have spotted your target audience, you can invite clients to trial beta versions of new features. This involves your customers in helping determine the trajectory of your product. Doing this means that you are providing actual solutions for customer problems, rather than what you think might be an issue. Here at OpenCRM we have successfully involved clients in projects such as the integration with Zapier when this was at the trial stage.
Customer Acquisition and Customer Retention: A Common Focus
Whilst most of the points outlined above relate to either customer acquisition or customer retention strategies, there are many other aspects that are relevant to both scenarios.
Keep up your Audit Trail
I think I must sound like a stuck record given how often I say this one, but log your interactions! Use the Activities function to record all your meetings, calls and tasks that relate to the work you are doing. It all adds up to the bigger picture so your business can best serve your customer. Use email integration to capture all your relevant emails into your CRM. These factors offer the transparency within your business, so anyone dealing with that client has access to their full history. It puts you in a great place when it comes to looking after that customer.
Prevent Sales Prevention
I'm sure you've all been in a situation where you have abandoned an online shopping cart. Maybe the process was too complicated, or you weren't fully sure it was working. The last thing you want to do is prevent your customers from giving you money! This applies to both customer acquisition and customer retention scenarios. One feature you might want to investigate is to give your clients the ability to digitally sign a Quote or Sales Order. This can be done any time day or night, and will automatically update the related order in your system to show that it has been signed by the customer, enabling you to proceed with the next steps.
In Summary
Wherever you are at with your business, you will always want to keep planting new seeds (customer acquisition) as well as nurturing those blossoming flowers (customer retention). Make sure your new and repeat business revenue streams ticking over.
My role is to build our Customer Success team and I work with our clients and prospects helping them get the most from their subscription – it is a fun challenging role as no two days are the same. When not in the office I'll be either making a noise on my guitar or getting my trainers on for a run out in the Yorkshire Dales, North York Moors or the Lake District.