What is Business Growth? And how can your CRM system help?
17 May 2021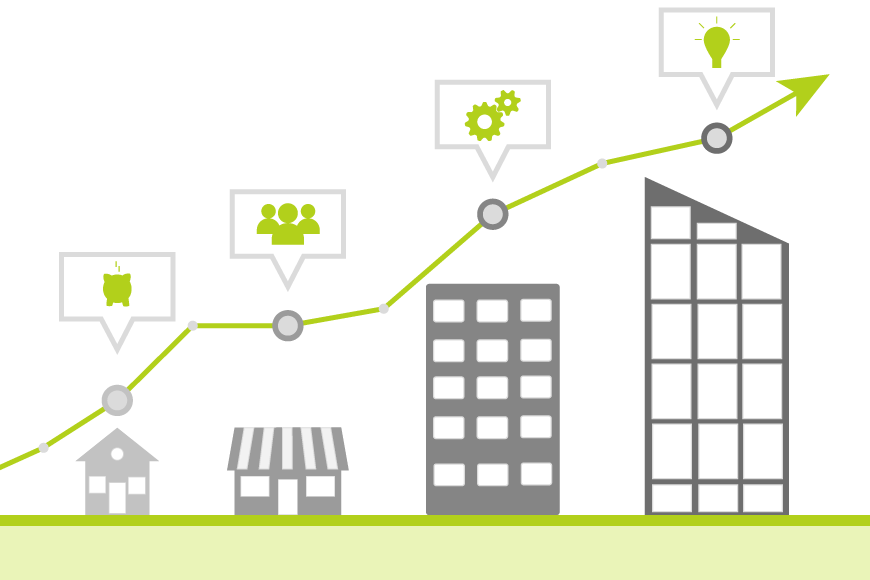 Put simply, business growth is positive expansion in any part of your business.
It doesn't have to be solely about the bottom line. Yes, it could be an expansion of your profits or revenue. But it could also be about your customer base, staff, products sold, product complexity, and so on.
For example, when OpenCRM was first created our focus was on growing our customer base. Once we had expanded that to a reasonable level, we wanted to focus on revenue. Before we did that, though, we first needed to grow the complexity of the system in order to do that. Afterall, we needed something to attract new customers!
Our business growth strategy evolved quite a lot over those first few years…and continues to do so, to be perfectly honest with you.
So how do you know which area of your business is right to focus your energies on building? Well, by having a strategy and a way to manage each stage of your business growth.
Building the right strategy
Building your growth strategy is all about knowing what you want to achieve and figuring out what it takes to get there.
According to the Harvard Business Review, if you want to move from your business just ticking over ("existence" in their terminology) to a "success", business owners should ask themselves the following questions:
"Do I have the quality and diversity of people needed to manage a growing company?
Do I have now, or will I have shortly, the systems in place to handle the needs of a larger, more diversified company?
Do I have the inclination and ability to delegate decision making to my managers?
Do I have enough cash and borrowing power along with the inclination to risk everything to pursue rapid growth?"
More broadly speaking, I think these questions really translate to:
Do I have the resources I need to achieve my growth targets?
Do I have the right processes in place to function once I do?
I can't do all of this myself, do I have people I can delegate some new responsibilities to?
And will the business be financially viable if it all goes wrong?
---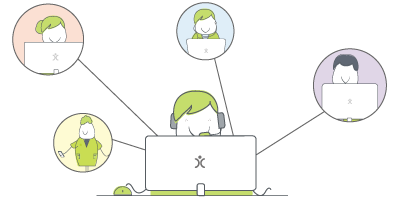 Watch and learn
If you're looking for further information on how specific features and functionality play out in OpenCRM, why not click to check out our webinars?
watch now
---
Answering those questions
Now a lot of those questions can't be answered by anyone but the business owner. But the answers to each will have an impact at every level of your business. That's why you have to have a plan: a business growth strategy.
The strategy will detail your growth targets and the resources you need to achieve them. Be as detailed as you can be when resource planning and outlining the processes you'll have to put in place.
That way, as you move forward on each aspect of your strategy, you (and the rest of the team) know what you're working toward (the target) and the milestones on the way to it.
Along this journey, you'll need to measure achievements against those milestones and targets, regularly reflecting on your progress…or lack thereof.
And that's how we get to the next section:
How to use CRM to measure business growth
When you have your goals for growing your business set (and documented), it's important to break those goals down into manageable milestones and targets. And that's where your CRM system can come in handy.
CRM systems exist to help you keep track of business data of all sorts and therefore gives you the tools to measure your growth progress.
If you're aiming to grow your overall revenue or profitability, those are easy goals to measure in a CRM system. Stick a graph with monthly Invoice margins on your Dashboard (either within your CRM or a dedicated BI tool) and you're good to go.
But what if you want to measure product complexity changes or staff skills training? Well, then you might use a Project and linked Activities to track the amount of time being spent in research and development. Maybe even having a Project for each stage of product development so you can see the overall progress as the number of Projects completed increases.
Similarly, if you want to increase the skills of your team, you could have them record the amount of time spent in each training course. It won't tell you everything about how their skills are progressing. But it will tell you how much time is being invested.
These kinds of measurable targets on the way to a greater business growth goal.
The important thing in all scenarios, of course, is to have a plan for how you will track progress. And use the tools at your disposal to do so.
---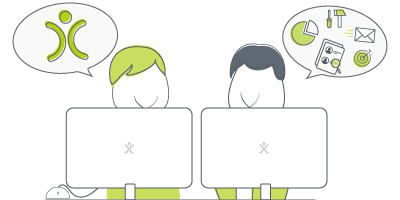 Don't just take our word for it
Click to read how other companies have benefited from using OpenCRM. From out-of-the-box implementations to businesses that needed bespoke development to fit their unique approach - we've seen it all.
find out more
---
Business growth management (and your CRM)
As your business grows in size and complexity, don't forget to take a step back every now and again to make sure you have the processes in place to manage it.
I'll give you an example of what I mean.
When OpenCRM was just a baby, we only had a handful of people on the team. That meant that everyone needed to lend a hand when it came to answering customer service questions. And I do mean everyone: from our developers to our single salesperson (hello!).
As we started to build a customer base, we moved on to hire people specifically to help our customers get their systems implemented and any follow up questions. And so our projects and support teams were born…first in a single job role and later split into two. And then two teams.
This growth from a single person to two distinct teams meant a need for new business processes. Processes that would ensure our customers got the help they needed at the right time in their journey with us.
Growth management never stops
We've come a long way from that point and now have multiple layers within both departments and procedures to manage how customers move between them. And how we manage this on our side, within our own OpenCRM system. We use everything from custom fields, email templates, workflow, and more to manage all of our internal processes.
We documented all these processes in internal FAQs. Which we regularly reviewed to make sure everyone knows them and that they are still performing as they should.
By managing everything in a single location and using the information from that system to measure our progress towards larger business goals, we can make sure that everyone working here at OpenCRM is pulling in the same direction. We're all working towards the same goals and seeing our progress towards them.
It's incredibly motivating and hugely beneficial from a business management point of view.
If you'd like to talk about how you can manage your business growth goals and processes in OpenCRM, please just click the chat icon on the right. We'd love to chat.