World Backup Day – Let's Talk about Backups
28 Mar 2022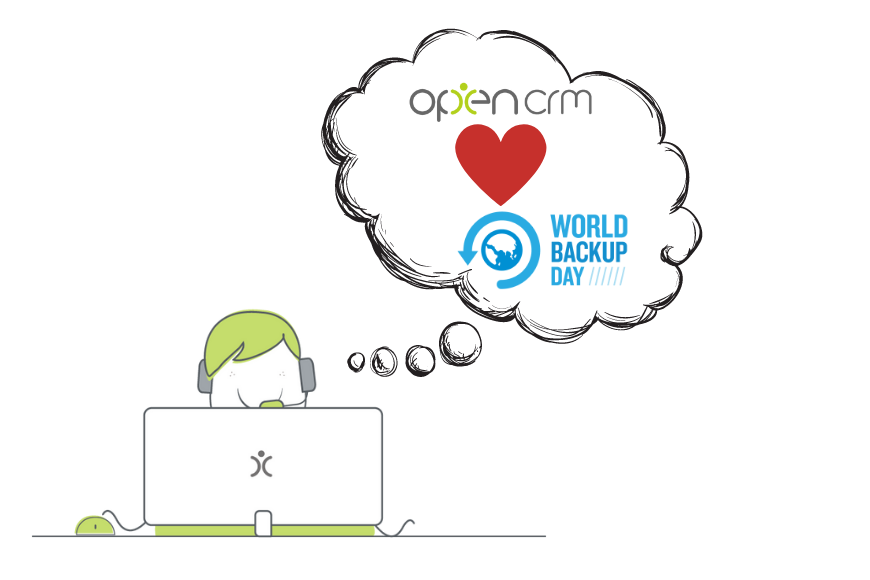 It's World Backup Day on Thursday 31st of March! Being a cloud-based CRM system, we thought it right to have a little conversation about the importance of backups. When we talk to new clients it's one of the earliest questions we typically get. Specifically, whether and how often their data is going to be backed up.
As we talked about in our Cyber Security blog, it's so important to understand the infrastructure surrounding your systems. It's integral that you keep up to date with the latest security threats. It gives us so much confidence in a new client when we can see they're actively thinking about system security and backups! It's always at the forefront of our minds! But knowing someone at the other end is also putting a great deal of importance on security means we have both sides covered!
For those who perhaps aren't thinking about cyber security and data backups, right about now, you might be thinking 'what even is a backup?'. So, what is World Backup Day all about?
World Backup Day – What is it?
Let's not beat around the bush here. Let's see what worldbackupday.com have to say about the day and why it exists –
'World Backup Day is a day for people to learn about the increasing role of data in our lives and the importance of regular backups. This independent initiative to raise awareness about backups and data preservation started out — like most good things on the internet – on Reddit by a couple of concerned users.'
There we have it. Exactly like our data security article a few weeks ago, we want to encourage all of our readers to start looking seriously at data preservation.
Preventing cyber attacks is often placed very highly on the list of importance when looking at the way you handle data. But equal importance should be placed on preserving the data you already hold!
Cyber security is an ever-changing landscape. Not only that, but it changes at such a rapid rate that sometimes new threats can slip through your security nets. How would you cope if you arrived at work one morning to find that all of your data has been lost or corrupted?
Let's cycle this backwards a couple of decades to illustrate exactly what a backup is.
Why should I backup?
In the old days, before computers became ubiquitous in the vast majority of workplaces, businesses would often have 2 copies of important documents. For the purposes of this conversation, we can call those physical printouts' data'.
They hold important information. Information that the business needs to continue to operate. But why 2 copies? Easy…Simply to have a 'backup' copy!
Let's look at an old school example to illustrate why you might want a backup copy of that important data. Your office sadly has a burst pipe and you have a flood. Hey, that's not a problem. You have those second physical print out copies stored somewhere safe, away from the primary copies.
Your contemporary backup works in exactly the same way. You're not literally printing 2 copies of documents. Rather you have a digital process in place to duplicate and make copies of your data in order for it to be used in the event of an emergency.
In ye' olde days, that emergency may have been a burst pipe. It could have been a fire in the office, a malicious break-in where perhaps lots of damage was done. Today, those things are likely to affect your data in a fairly minimal way. It's all stored on your computers and when using most applications, in a cloud somewhere.
But what about a malicious digital break-in? What happens when someone damages your digital systems? What happens when you get a metaphorical fire within your CRM system that burns your existing data to the ground? I think you'll be starting to understand why having system backups is so important.
What should I back up?
You should be backing up EVERYTHING! It's not just your emails or documents, you need to be prepared to back up any data your business handles. This point highlights the advantages of using a CRM system. It's such a good idea to have a central business hub where all of that data is stored.
If you have separate systems for email archiving, contact management, project management etc, you would need to back up all of those systems separately. This means if you ever did have an emergency, you're going to have to piece many backups back together like a jigsaw. And obviously, playing with a 'backup jigsaw' could lead to missing pieces.
With a system such as OpenCRM, acting as a central business hub where all data is stored, if you ever have an emergency you can be rest assured that all aspects of your business have 1 single backup. It's all one picture, not a jigsaw! Simply request a backup to be restored. Within a couple of hours, your data will be back in your system.
How does OpenCRM backup data?
Having a backup of your system is one of those things, like knowing your data is stored in the UK, that is important for people's peace of mind. People want to know that, if they make a mistake or suffer a cyber-attack, their data is not ruined or lost.
So without further ado, here is our backup policy:
We backup all customer servers every night.
We also take a weekly backup of individual customer databases and store this in a separate facility from the rest of our infrastructure…just in case.
We also take an additional backup at the end of every month.
Here is a bit of a tongue twister that our sales team have perfected –
'We back up your system Daily, we back up the backups weekly and we back up the backups of the backups monthly and store them for 12 months.'
Try saying that quickly after 4 or 5 coffees!
What is included in an OpenCRM backup?
In addition to the information stored directly in the fields of your records, our backups contain your configuration and customisation.
This includes:
Attachments and Document files
Audit logs (i.e. what changes have been made to records)
So if a backup has to be restored for any reason, you don't even lose the configuration that makes your system unique to your business. As I said, you want to be backing up EVERYTHING! So that's exactly what we do with an OpenCRM system!
How long are these stored?
Every single nightly backup is stored for seven days. This means that, if you make a mistake or suffer a loss of data on Monday and don't discover it until Friday, there's a copy of your system available from before the loss of data!
We could then restore either the whole system or just the area of the system where the data has been compromised.
If only your Leads module was affected, you wouldn't want to lose a week's worth of data from your whole system by restoring a backup from Monday. Being able to restore the whole system or specific parts of your data is a really handy feature!
If you need us to restore a backup of your system, please get in touch with your account manager.
The weekly and monthly backups, on the other hand, are stored for at least six months. So if you don't discover that mistake until halfway through a month, you will still be able to retrieve your data.
Right to be Forgotten and restoring a backup
There are many important things to think about when you restore a backup. But one of the biggest is what happens with any automation you have set up.
Your workflow or other automation will be run as normal on any records that match the triggers. Either overnight or on saving a record.
But what about those records relating to individuals who have made a Right to be Forgotten (RTBF) request? It's important that those sorts of GDPR compliance settings are also included in your backups! Remember when I said you need to back up EVERYTHING?
Well, in OpenCRM, if you use the tools outlined in this FAQ, all of your RTBF rules are saved on your backup. Importantly, BEFORE any of your users can access the system.
This means that you don't accidentally gain access to records that you shouldn't.
Call us over cautious but…
As a business, we dedicate large amounts of our resources to making sure that our customer's systems, and therefore data, are safe and secure. We have some extra backup measures that we also go through. Call us 'over cautious' but we pride ourselves on having some of the most rigorous data preservation procedures you will find.
So, in addition to the different backups of your system we talked about above, we also run real-time mirrors of our servers. Two of them, in fact. One of which is in a totally separate data centre.
This is more about the resilience of our infrastructure than a true backup.
But in the (incredibly) unlikely event that something happened with our primary servers, we can keep OpenCRM running for all of our users using this technique!
Is Data Preservation my job or someone else's?
Given the above information about how OpenCRM backups work, you may be sat asking 'so is backing up my responsibility or someone else's?'
The short answer is always that it's your responsibility!
The slightly longer answer is, it's always your responsibility BUT…that responsibility might simply be to check with your system providers or IT team that your data is indeed being backed up.
Jumping back to OpenCRM for a second, we would never expect our users to do additional backups themselves. They can if they like, but given the rigorous procedures we have talked about already, it's wholly unnecessary.
What is necessary is your CRM Champion checking to make sure your provider is taking those security steps on your behalf! That's it!
You don't need to do anything else besides questioning the process. Again, this speaks to why having a good CRM system in place is such an excellent move for a business to make. It takes those important backup tasks and plonks them onto someone else's desk!
You don't need to keep checking with your IT department to make sure those backups have been done. You will never run into a situation where you need to restore a backup only to be told that someone has forgotten to do one in months! Simply ask the question of your CRM provider and relax back when you learn that they have it all in hand.
At the end of the day…
This article exists to try to inform people of the importance of backups. The global celebration of data preservation exists for the very same reasons.
If you work with a computer in any capacity, you handle data. And that data needs to be kept clean, tidy and with its integrity intact.
It's not just about being on the attack by trying to lock down your cyber security. It's about being defensive of your data at the same time. And by backing up regularly you are defending that precious data against any emergency situation.
It might be something that you need to look at? Maybe you are unaware of your current backup status? Perhaps you are unsure of who currently holds that responsibility? If either of those statements ring true, you need to rectify that situation. And what better day than World Back Up Day 2022!
If you're currently running systems that are managed by a 3rd party (CRM, Accounting, Contact Management etc). You should question those 3rd partys and make sure their backup procedure is as rigorous as OpenCRM's is, as highlighted above.
Take this opportunity!
Perhaps you could take the 31st of March as an opportunity to also 'back up' and take a look at all of those systems (see what I did there….) Is having different systems for every aspect of the business helping you?
As I said above, if you are using many different systems, restoring lost data could be a real challenge. Or if you are using a CRM system or other central business hub, but your provider is not backing up your data sufficiently, again, you could come a cropper!
The answer is easy. Give us a call or drop us an email! You can see how seriously we take our customer's data. You should be taking your customer's data equally as seriously. So abandon those 5 or 6 separate systems and bring them all together in one place! Restore a backup of a whole picture rather than playing with those jigsaw pieces for hours. Give your 3rd party system provider the shove and move over to a provider that REALLY cares about keeping your data safe, secure and backed up at all times!
If you would like to dive straight into a free trial of OpenCRM, simply click the button below. Or, as I said, please don't hesitate to reach out to us via phone, email or live chat and we can give you that reassurance you are potentially not getting right now!
Happy World Backup Day everyone! I'm just off to go and back up this article before I forget…