Business Intelligence and its Role in CRM
18 Feb 2019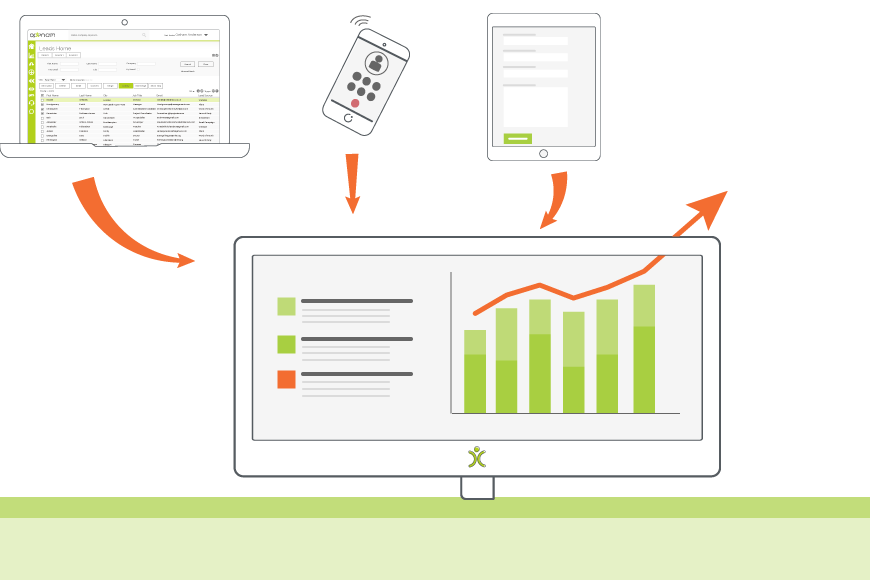 Small business, mid-market, enterprise, it doesn't matter. Companies of all sizes are using software to improve their profitability and productivity every single day.
Seriously, we are in the age of software. It helps companies gain deeper insight into customers, develop new metrics, assist high-level decision making, and automate lengthy processes.
But aside from choosing the right software, companies are also focusing on integration capabilities with their existing software.
Why is this? Well, companies have to ensure all their software works together seamlessly to provide its employees with the best opportunities for success.
Two types of software, in particular, can work well together when paired correctly. I'm referring to CRM software (of course) and business intelligence software. Let's take a look.
What is CRM software?
CRM, of course, stands for "customer relationship management." Its main purpose is to record, track, and manage client and prospect relationships all in one place.
CRM is core to any sales department and is most often integrated with marketing, customer service, and workflow tools. It is a hub for important customer data like phone numbers, email addresses, job information, social media accounts, and more. With so much data in one place, it's easy to see why CRM software is important for many companies.
When this data is collected, analyzed, and applied outside just the sales department, the value of CRM increases. To do this, however, companies will have to look beyond basic analytics. This is where business intelligence comes into play.
What is business intelligence?
Business intelligence isn't just a single piece of software, but more of a set of processes to extract valuable information from multiple data sources.
Think about it. Everything from cloud applications and email marketing tools to ERP and supply chain systems holds massive quantities of business data. These platforms may have internal analytics, but don't quite offer a full scope of knowledge.
With the help of data professionals, business intelligence ingests all of a company's data into a singular place to be analyzed – and yes, this includes CRM data.
Business intelligence generates new reports, dashboards, key performance indicators (KPIs), charts, graphs, and more. It uncovers what a company is doing correctly, and which pain points to address. Through business intelligence, new market trends and business opportunities may come to light as well.
Best of all, these strategic reports assist decision-makers and executives within companies. There is no guessing left when it comes to business intelligence.
---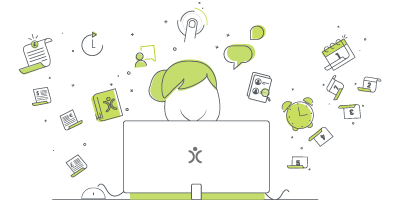 Do we have what it takes?
We don't restrict which features you have access to in OpenCRM based on how many users you have. You get everything right out of the box. Click to find out if we've got the features you need.
find out more
---
Business intelligence and its role in CRM
Now that we have a basic understanding of CRM and business intelligence, it's time to bridge the two to see how one benefits the other.
Right off the bat, it's easy to see that CRM software feeds highly useful data into business intelligence systems. This type of data is used to build customer profiles when it comes to marketing and sales campaigns.
Whereas CRM focuses on the customer experience and nurturing relationships, feeding this data into business intelligence provides a greater overview of customer trends.
For example, business intelligence pulls information from other systems and cross-references it with your CRM data. With this information, we now know:
Which interactions each customer profile prefers.
When and how to target them along the buying process.
How to further segment customers and build new profiles.
Any buying or customer service trends related to satisfaction rates.
These are just a few of the many insights that can be derived when combining CRM with a business intelligence solution, but what can a company do with this information?
Here's one way. Let's say engagement rates are down and a data analyst runs a business intelligence report. We now see that customer profile A prefers being targeted on Facebook as opposed to cold emails. This report is then passed onto a decision-maker, a new social media marketing campaign is run, and engagement rates are back up.
Obviously, this example is an oversimplification, but it shows how business intelligence can be applied to give a 360-degree view of customer experiences.
4 things to address before combining CRM and business intelligence
When many databases come into play, there's always a few roadblocks to look out for. Here are three of those roadblocks to consider before combining CRM and business intelligence.
1. How clean is your data?
The value of business intelligence is really dependent on how clean, organized and standardized your company's data is.
If you're looking toward business intelligence, consider how aligned is your CRM software is with it. Are databases consolidate? Is redundant and duplicate data purged? Are customer profiles updated and is the right data there?
Layering business intelligence on top of CRM software without any preparation will only create more problems.
2. Do you have permission to send your data outside your CRM?
One of the things you may wish to review is whether the permission from your data subjects includes this new use of their personal data.
If you're looking for more information about data process permissions and how you can you use your CRM to manage it, check out our page on GDPR here.
---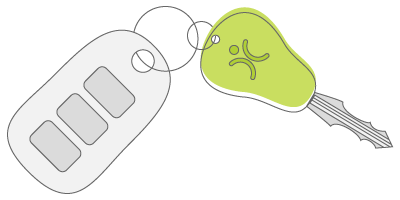 Want to take it for a test ride?
Nothing compares to trying out a piece of kit for yourself. Click to sign up for a free trial and see if OpenCRM has the look and feel (as well as the features and functionality) that you're looking for.
try it out
---
3. Which business intelligence tool is right for your team?
Not all business intelligence tools are created equal, and it's up to your team to decide which solution is best fit for your needs.
For example, full-scale business intelligence platforms have the capabilities of generating comprehensive predictive models. However, these platforms generally require the help of data scientists to get up-and-running.
Simpler business intelligence tools such as self-service BI generate visual dashboards and scorecards that are easily readable for managers and executives. Non-technical users can also build their own reports.
So, it's important to find a business intelligence tool that is most aligned with your team.
4. Is your team prepared for business intelligence?
Even the simplest of business intelligence tools require some sort of onboarding, so unless you plan on hiring additional analysts, it's worth identifying team members who embrace this role.
Simply put, business intelligence requires a data analyst mindset. Those who have an eye for testing and tracking metrics/trends should be caught up to speed first with the selected tool. These members will also need to understand database querying so relevant information is being pulled and analyzed.
Final thoughts
Business intelligence isn't just a piece of software, it's a company-wide shift toward more calculated decision making. When applied correctly with your CRM, business intelligence can create a more holistic customer experience and more selling opportunities for employees.
If you decide business intelligence is a step in the right direction for your company, be sure to look at a variety of tools, customer reviews, and features. Also, be sure the solution you choose can be easily integrated with your CRM.
Not quite sure about integration capabilities? Hold that thought, and check out this in-depth piece on the benefits of CRM integrations.

Devin is a Content Marketing Specialist at G2 Crowd with a focus on data, analytics, and marketing strategies. Prior to working at G2, Devin has marketed for multiple early-stage startups out of Chicago's booming tech community. Outside of work, he enjoys cheering on his beloved Chicago Cubs, Bears, and Blackhawks.