The Benefits of a CRM Consultant
23 Aug 2021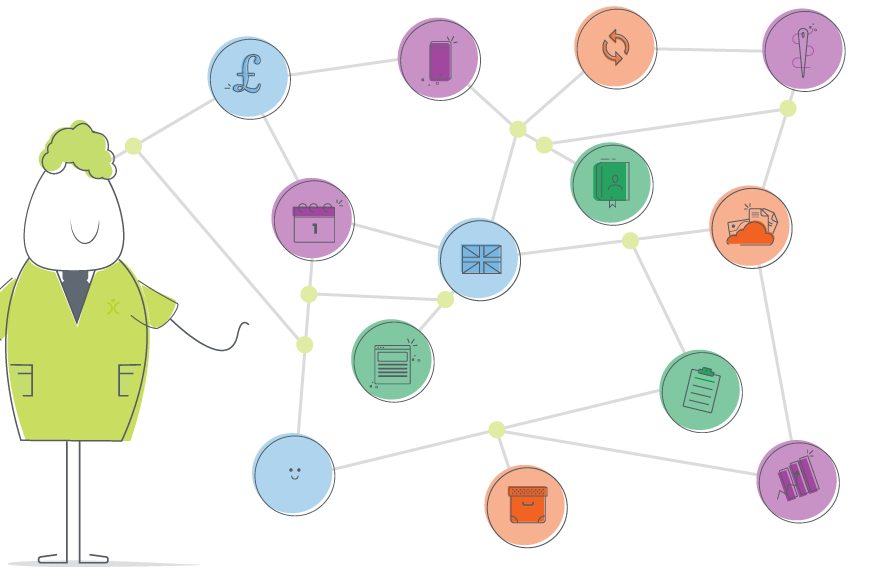 Some of our customers work with a third party CRM consultant to find and implement their new CRM system. Others don't. The question we sometimes hear (from both sides to be honest) is whether an external CRM consultant is really necessary to the process. Or if the services we offer are enough.
And I'll be honest, it's a tricky one to answer. I mean…I know what our sales team wants me to say, but…
There are pros and cons when it comes to working with an external consultant on a CRM project. So in this blog, I'm going to talk about what a CRM consultant does, what the benefits are to working with one, and what some of the drawbacks can be.
That way you can decide for yourself whether you want to employ one, work with us, or whether you want to go it alone.
What is a CRM Consultant? (and do I need one?)
The first question in all this has to be: what exactly is a CRM consultant?
In this context, a CRM consultant is someone who is hired by a company to find and implement a CRM solution on their behalf. It can also refer to the professional services offered by many CRM providers (including OpenCRM).
Ideally an external or third party consultant will be vendor or provider neutral. Meaning that they don't have a vested interest in which CRM system you decide to use. Their advice will be entirely based on their experience in the industry and your business requirements. It will not be based on a commission from a CRM provider or their own stock holdings.
Your CRM consultant should be someone who understands the marketplace. And who is there to help you find the right system for your needs.
Which leads me nicely into the pros and cons of working with a CRM consultant.
Benefits (and downsides) of a CRM Consultant
If you ask me, a CRM consultant needs to show benefit at each stage of your CRM journey. That includes:
finding the right system,
getting it set up for your business,
making sure it is properly implemented, and
then helping you review your usage after it has been properly bedded into your business
Some companies will only want to work with a consultant for the first two phases. While others prefer employing them for the first and then re-negotiating for the final phase at some point in the future. Still more may choose to hire a consultant for the whole thing.
But what do I mean by phases? And where does a CRM consultant come in?
Phase 1: Helping with the search
This is probably the most common area where a CRM consultant will get involved. In this phase, they will work with you to understand what you do and help identify which areas of the business could benefit from the use of a CRM system.
The real benefit to working with a CRM consultant on this stage is the experience of the industry. Knowing what is possible with CRM and how various areas of your business can be improved by it.
The drawback, on the other hand, is when a CRM consultant doesn't take the time to truly understand what you need. If they don't understand what you do and help find the right CRM system for you, you could end up with the wrong system entirely for your needs.
If you are working with a third party, you also have to make sure your CRM consultant is fully independent. You don't want someone trying to push you towards a system that they have a vested interest in selling. Otherwise, again, you could end up with the wrong system for your business.
But, once your consultant has helped you find the right CRM system for your team, it doesn't mean their job is over. After all, this is just phase one of your CRM journey.
Phase 2: Configuration heavy lifting and tips
This is really where your consultant's effort to understand what you and your team do pays off. They will work to get your new system customised to fit your data and processes.
The benefits to working with a CRM consultant at this point is that they can carry out all that hard work leaving you the time to get on with your day job. This means carrying out customisation, creating your email and PDF templates, importing your data, creating reports, and so on.
One drawback here can be if your CRM consultant hasn't understood your requirements and business processes. This will leave you with a system that doesn't actually fit what you need.
This is why we spend a lot of time during the sales process working with you to understand what you need from your system. Otherwise, you'll end up with a CRM solution that just isn't right…and then you won't use it.
Occasionally I have also seen third party consultants that feel unable to take initiative. This requires you take get involved in every decision. This is usually the result of them not fully understanding your needs. But it does speak to someone who is still dedicated to getting the system right for you. Alternatively, this can be a benefit to some CRM consultants…it entirely depends on what expectations you have at the beginning of your journey with them.
Phase 3: Implementation and training
Once you have your CRM system configured in such a way to suit your business needs, it's time to get your users actually using the system and get it embedded in your processes.
Having a CRM consultant on board at this stage can be a huge benefit. There will be someone with experience in training people in using a CRM system. They will also have tried and true ways to incentivise your learn and use this new system you're trying to implement.
As with the previous stage, though, if your consultant doesn't really understand your business or team, their training and implementation tips may actually backfire. Similarly if you're working with a third party consultant that doesn't have enough experience with the CRM system in question, the training may not be as clear as if you had done it with your CRM provider.
Phase 4: Reviewing and expanding
Now most people think that the previous phase is actually the final part of your CRM journey. But it really isn't…after all, your business never stops growing and evolving, so why would your CRM usage?
You should be regularly reviewing whether there are areas of your business that aren't documented in your CRM system. Or where your CRM usage just doesn't fit anymore.
Your CRM consultant should be helping support you in this regular review. Whether it's every few months or on a yearly basis. As with the initial search, the real benefit is their experience in both supporting businesses like yours and more generally in the CRM industry. They should be able to recognise what new options in your CRM system could be implemented in various parts of your business.
This is exactly why we think it is so important for you to have a dedicated account manager at OpenCRM. Our account managers work closely with our customer success manager to make sure we are in regular contact to offer just these kinds of review sessions.
A downside of this, however, can be expansion into new areas of the system when your users haven't got to grips with the basics yet. If you feel that this is happening, make sure to talk to your consultant about training and encouraging confidence in your users before any expansion.
Going back to whether you need a CRM Consultant
So the question of whether you need a CRM system really comes down to how you feel about each of the above stages?
Do you know what you need / want from a CRM system? And do you have the time to search for and vet a number of systems to find the right one for you?
Do you have the time and energy to configure the system to fit your business? If not, would you prefer to work with your CRM provider rather than a third party consultant?
How are you planning on managing the implementation of the system and training of your users? Many CRM providers (including us) offer training as part of our professional services, so that's an option as well.
Will you regularly review your CRM usage and put in plans to update accordingly?
There are no right or wrong answers to the above. Working with a CRM consultant, either a third party or someone from your provider, can go a long way to making your CRM project a success. But it's not for everyone.
The choice is yours.