The Pros and Cons of a Bespoke CRM Solution
12 Aug 2019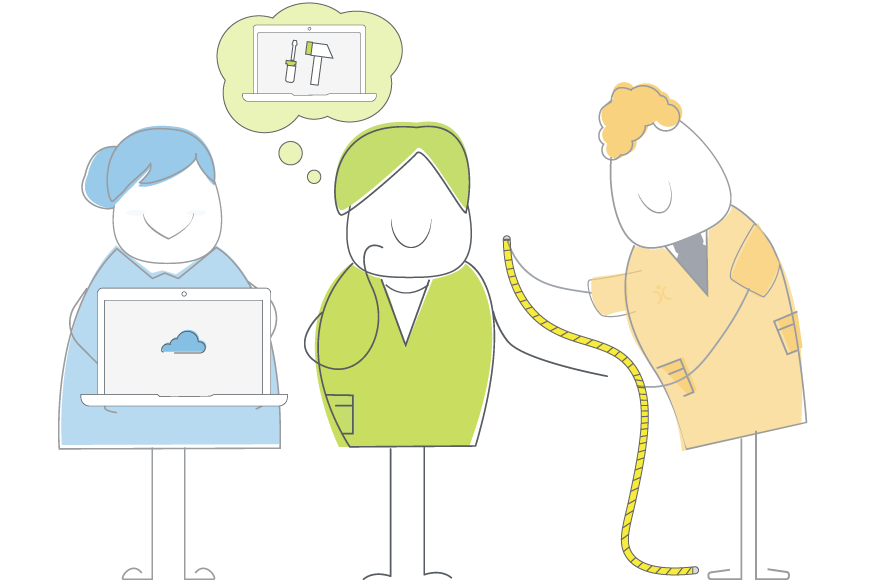 Once you start to dig, you will soon unearth a dazzling array of CRM solutions on the market. You can have a bespoke solution built for you or use something "off the shelf". Some of these will be basic (and free) options, whilst others come with an eye-watering price tag attached.
What they have in common is a standard suite of features for your basic customer relationship management needs.
When you delve a little deeper, you'll find certain CRM systems are tailored to meet a more specific requirement. For example, the core functionality might revolve around support or marketing, as opposed to managing prospects and your sales pipeline.
It's all about figuring what you need from the system.
Most offer a degree of customisation – turning an off-the shelf system into a bespoke piece of software. For today's post we will be exploring the pros and cons of the different options that are on the market.
Start From Scratch
You might work in an industry so niche that it doesn't look like any of the major players will cater to your needs. What you therefore need is to build your own CRM from the ground up.
These CRM solutions are known as bespoke or custom systems.
The Pros
You are the masters of your destiny. You can create your system according to your exact specifications. If there are any extras you need, just bolt them on. You need a team of handy web developers and software architects who can take your requirements and convert them into a live system that does what you need it to.
If this is built and managed internally then you can actively manage the system, adding in tweaks and changes as you grow with it.
The Cons
There are quite a few concerns around a bespoke CRM solution. You need to do everything from scratch. Without a basic framework to start with you really are building from the ground up, and this can be very time-consuming. You need to ask yourself a lot of questions.
How long is your development team likely to stick around – are they your employees or did you outsource the work to someone else? If you need to make any changes – whether simple or fundamental – is there someone around who can manage this effectively?
Are you building your system using a reputable platform? If you opt for something too obscure, there is a danger that your system will become obsolete and there is nothing you can do about it. Perhaps browsers will launch new versions or security patches that will cause problems of compatibility.
Standard web-based CRM systems will have teams of developers that are constantly patching and updating the software. This helps to keep it compatible with modern browsers and new versions, so their users never need to worry about going out-of-date. 
A personal example
At a previous workplace, we had a fabulous custom piece of software. It was essentially a bespoke product database rather than a CRM solution. But it had accounting and stock management built in, basically doing all the admin we needed it to do. This software also had a couple of printer options, allowing us to print off daily reports, and create price stickers.
We had this all-singing and dancing system for a good number of years, but gradually the wheels fell off… The original printer for the pricing stickers was coming to the end of its shelf-life and guess what – it was a discontinued model. After searching high and low, we eventually found a costly and not very stable replacement.
The software developed niggles here and there, and the developer team that wrote it became suspiciously harder to get hold of as each fault unfurled. Finally, it was time to ditch the software with the final kick in the teeth that is was not written in a format that allowed the data to be exported and re-imported elsewhere.
One lesson learned the hard way.
Straight Off The Shelf
Lots of business owners don't have the time or the technical know-how to help develop their own CRM system. With those people in mind, there are plenty of systems available that are fully configured and good to go.
The Pros
Such a system is designed for you to log in and get started as soon as you get your details, so in theory you can be up and running right away. Your software provider will have done a lot of research whilst building to create their CRM solution – they will know what issues their clients aim to resolve using the system and so it should be ready to meet your needs.
As this is a one-size-fits-all package, it should come with an all-encompassing user guide not to mention support agents who know their product inside out and are on hand to guide you. Sounds pretty good, right?
The Cons
The truth is hardly any business exists "out-of-the-box". Even if you are following a traditional format, you will have your own quirks and niches. This may be terminology, or a specific way in which you like to get jobs done. At the very least details such as your geographical location will be unique to you. Therefore how can you marry those individual details to a generic piece of software designed with a wider audience in mind?
If you don't have any flexibility with your system configuration you end up having to re-appropriate fields. For example, you might be forced to put your client's third email address into the "fax number" field as you only have two email fields available. This will get confusing in the long run when different users each find their own way of inputting data. Very soon you will end up with an incredibly messy database. If you need to do any bulk updating of data, you will be faced with a bit of a nightmare – exactly what the CRM was supposed to prevent from happening in the first place!
Having assisted myself with many data migrations I have seen this happen all too often, and the result is either an expensive and time-consuming data cleanse, or to wipe all except for the basics and pretty much start from scratch again. Not ideal when you have been building a database up for years.
At some point, you may wish to introduce more departments to your CRM, such as your support team or project managers. However not every CRM solution will offer this extra functionality and so you'll find yourself getting back onto the marketplace looking for a more bespoke CRM solution.
A Customisable CRM solution
So far, we've looked at a blank canvas, and then the finished article. But what about that something in between? A system that is ready to use from the word go but is intended to be the framework that you fill in with the details.
The Pros
Quite simply, you get the best of both worlds. You get a nicely preconfigured CRM system that is good to start with, if you are in a hurry. But it's not a closed book – it is designed to be chopped and changed as you see fit. There's no need to store that third email address in the fax field – you can create a new custom field purpose-built to contain that information. You can also turn the fax field off, so you end up with a nicely streamlined bespoke CRM system – without the fully bespoke price tag as you are not building from the ground up.
What's more as you are using a system that has been designed by a software provider, they should have a multi-purpose knowledgebase. Firstly, there will be a step-by-step guide on how to use the system features as they come, for example how to import date, or how the sales pipeline works. Secondly, there will also be admin guides that tell you how you can customise your software to turn it into a bespoke CRM solution. Adding custom fields, changing layouts, hiding fields or entire modules, adjusting user permissions, designing workflow, all that good stuff.
The Cons
Like anything that is new, you will need to invest in what you are doing. This will most likely involve time and money. Planning the configuration of the system, the data migration and import, designing of templates and the training of users. A bit like most things in life, you need to walk before you can run, and getting started with a new CRM is no different.
Having said that, a good CRM provider will listen to you to understand the issues you are trying to overcome using CRM software and will offer you guidance on how that can be achieved. What's perhaps just as important is that your CRM provider needs to be honest; if you are asking the impossible, they should tell you so! However even in that scenario, it is often the case that they are also able to view your problem from a fresh perspective to see if there is an alternative approach that will help you out, that you may not have thought of.
The Final Round-Up
As with many things, there is no one right or wrong answer here. Everyone's needs will be slightly different, and budgets will be similarly wide-ranging. Some of you may need a system that you can start to use tomorrow, as cheaply as possible, whereas others will want to build something slowly with a planned launch some time away. Whatever your obligations are, that customisable CRM solution usually meets both those requirements and it is generally a wise choice for those of you in it for the long haul.