Managing Helpdesk with Support Tickets
4 May 2020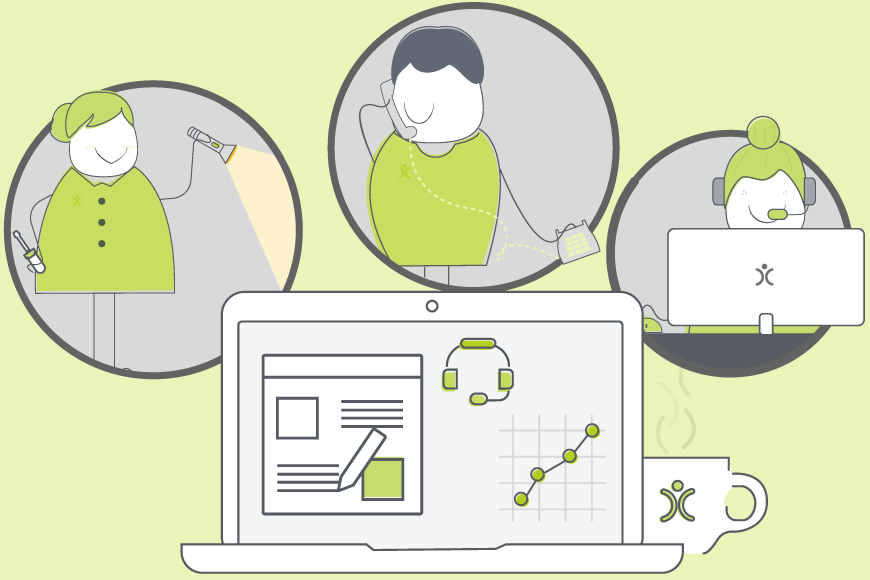 A comprehensive CRM tool comes with features designed to assist in various parts of your business, including using Support Tickets for Helpdesk. Many businesses will initially focus their CRM efforts on pre-sales activities – managing Leads and Opportunities. The next typical scenario is seeing the sale cycle to conclusion from Opportunity through to Invoice. A third common use of CRM is for Helpdesk, or post-sales support.
This is quite a broad term, and in this post we'll be exploring how utilising support tickets can be used in different scenarios.
The three phases outlined above are not mutually exclusive, and in an ideal world you will be using all three. Combining the whole customer journey into one system to bring your whole business under one roof helps you offer the best service to your customers.
What is Helpdesk?
The name "Helpdesk" may conjure up images of complaints, or firefighting customer problems. But it can be so much more than that. It can be a place for clients to raise those general "how-to" questions. It could be a place to store details of scheduled maintenance. Think of your CRM as a place for you to record interactions with clients. For example, Opportunities are where you log details of potential business. If you follow that principle, the Helpdesk is where you store information about how you have assisted your clients.
As with other areas, Helpdesk can provide a rich source of data for you to improve your customer service. By reporting on common faults, you can see if there's anything you can do to pre-empt these. You might notice that typical questions could be answered with a quick video tutorial. When you launch new versions (or fixes), you have a ready-built list of customers that would benefit from any enhancements.
Here are three scenarios where the Helpdesk module will help you with your Account Management:
1. Tech Support
If you sell and maintain a technical product, you are going to need to offer help on various levels. One example would be software or online tools, that can be managed and supported by people working remotely.
If we're talking about something like a cloud-based CRM, then I talk from experience, so these words come to you first-hand!
The Beginner
You will always have clients and prospects diving into your world for the first time. What might seem logical or intuitive to you may not be the same for someone new to your system. It is easy to log enquiries, and link FAQs to your answers to provide your new clients with a library of knowledge.
The Explorer
This person is likely to dive into the deepest darkest corners of your system to come up with questions that will test your skills to the limit! But that person is effectively your best product-tester. Their endeavours will help ensure that those less frequently used areas are well documented and kept user-friendly.
The Bug Hunter
Yes, things can and will go wrong. It may be no-one's fault, but the gremlins work their way into your system, and need eliminating. No matter how much testing you do on new features, there may be a scenario you overlooked. When this issue is logged, you can pass it onto your tech team to resolve.
2. Onsite Repairs
There are many businesses that rent out equipment. Either to private firms, or the general public. A coffee machine rented to a local café or a satellite dish on the side of your house, there are countless examples. The owner of the equipment rents it out and manages the stock and maintenance as part of the service agreement.
Stock Maintenance
This is pretty obvious – keep the machine topped up so it doesn't run out. This comes down to the old supply and demand. Make sure your vending machine doesn't run out of chocolate and leave hungry customers taking their business elsewhere.
Regular Services and Upgrades
If you offer six monthly health checks or annual upgrades, you'll need to get these scheduled and ensure the work is done.
Problems
Oh, where to start! The great British weather is not known for its leniency, so any equipment situated out-of-doors will need to get used to a bit of wear and tear. Then you have the joys of misuse, vandalism and those magical technical faults that develop of their own accord. Such issues aren't resolved by sitting and moaning, so they need to be managed too.
3. Telephone Hotline
Call centres exist up and down the country to help deal with emergencies, answer complaints or look after day-today communications with clients. Generally, there's less advanced planning that can be done, although if product or faults, or delays in a new service launch become apparent, then you can gear yourself up to pre-empt these.
---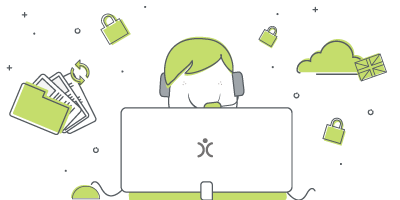 GDPR: your data, your rules
We've always put data protection at the heart of OpenCRM. So with the introduction of GDPR, we've added new tools and features so you have the control you need to implement your policies and achieve compliance.
find out more
---
In all the above situations, logging those queries on your system gives you tangible information you can analyse to help improve your customer service.
Having looked at the "what" and "why" of customer service, I want to focus on the "how". Here are just some of the tools available to help you deliver the best possible service.
Who's in Charge?
When a problem comes in, someone needs to take ownership. This helps your team see who is dealing with the issue and gives your client a point of contact. Depending on the nature of the support tickets that come in, you might have different users who are experts in different fields, or ticket categories.
To make your lives easier, you can establish some user assignment rules in your system. If a ticket comes in that falls under "account renewals", you reassign it to the relevant sales manager. You might prefer to allocate tickets to front-line support in the first instance, so they can work out the best course of action in each instance. In this case, you could apply a round robin rule, so that inbound tickets are dished out equally between your support team. The end-goal in both cases is that you run a tight ship where nothing falls through the cracks, and your clients get a top-class service.
It's in the Wording
From experience, email responses tend to fall under a couple of categories. Firstly, the courtesy email to let the client know their enquiry has been logged. Secondly, an email confirming that a support ticket has been resolved and closed. A common third email is one is an update email, to let the client know you are still working on the issue. Given that most of the wording for these emails will be the same every time, you can use templates. Standard wording, with merge variables embedded, allows you to produce consistent emails that answer your client's questions.
"Dear $contacts_firstname
We have investigated the issue you reported and resolved it as follows:
$rel_helpdesk_solution
If you have any further questions please get in touch. Simply responding to this email will re-open the ticket and one of our team will get back to you"
That last sentence leads me onto my next point, the automation of emails…
Automating a Response
Using our email integration – Pop2OpenCRM – when a client sends an emails to your support address actually does a lot of clever stuff. As well as your team receiving the email, you can configure OpenCRM to automatically raise support tickets from inbound emails. It will link the sender's Contact and Company record to the ticket, with options available to create a new Contact if that person does not already exist in your system.
Once the ticket has been created, it is allocated an ID. This ID is tagged into any further correspondence from the ticket, so if you send an email requesting more information, when your client responds, their email gets automatically attached to the ticket. Furthermore, those inbound emails will update the status to "Needs Action", so you have clear visibility of tickets that need progressing.
Sharing the Wealth
When you log an enquiry, you might be an intermediary. You're asking a question on behalf of someone else, or you need to give multiple people visibility of a problem resolution. With OpenCRM you can also add Additional Recipients to a ticket. This means they are alerted with any updates or resolution notes. Anyone who needs this important information will receive their news without delay.
Managing Priorities
A Ticket is a Ticket, but no two support tickets are the same. A "system down" situation carries more urgency than a "how-to" enquiry. Similarly, you may have clients paying for a premium service, so you want to roll out the virtual red carpet when they get in touch. These situations can be managed using Service Level Agreements (SLA). They determine how quickly a ticket is escalated.
The Lowdown on SLAs
In OpenCRM SLAs can be configured in a number of ways. The simple solution is to use the Severity of a ticket to determine which SLA should kick in. That means a "System Down" ticket will rise to the top of the list much quicker than an enhancement request.
If we think back to the red-carpet situation, that can be managed by basing your SLAs on client Contracts. A platinum client may have a quicker SLA time for their tickets than a standard client has. When you are charging a premium you need to justify that, and providing a preferential SLA is a good example.
Another option is to make your SLA times product specific. If you have certain products that are central to people's businesses and others that are peripheral accessories, you will want to prioritise problems with the core products.
As you can see, there are various ways in which the system can help you determine which issues should be dealt with as a matter of priority.
Managing more than one Helpdesk
I was going to finish the blog post here but I've just got time to squeeze one more highlight in! If you manage support on behalf of various companies, it stands to reason that your emails should be branded appropriately. We have a feature in OpenCRM that determines which template is used based on the inbound support email address.
You don't need to worry about selecting the right one, they system does it for you. Tying in with the feature above, you can also use different SLA times for different email addresses. An email sent to "enquiries@" may get a 4 hour response time, whereas an "emergency@" email will trigger a 1 hour response. A simple way of ensuring your communication remains on-brand, regardless of how many brands fall under your umbrella.
Have it Your Way
As you can see there are many options available for you to design Helpdesk to work how you need it. Getting the most of your CRM means making it nice and straightforward to use.
(If you'd like to read about some ways our customers use HelpDesk to achieve their goals, why not have a read through this blog with a few examples.)
One of the best practises there is to segment your data appropriately. You want all of your teams to find the information they need without searching for a needle in a haystack! Therefore, Helpdesk is the ideal location for storing your client questions, and resolutions. 
My role is to build our Customer Success team and I work with our clients and prospects helping them get the most from their subscription – it is a fun challenging role as no two days are the same. When not in the office I'll be either making a noise on my guitar or getting my trainers on for a run out in the Yorkshire Dales, North York Moors or the Lake District.