Keeping Your Marketing Context-Relevant
5 Feb 2019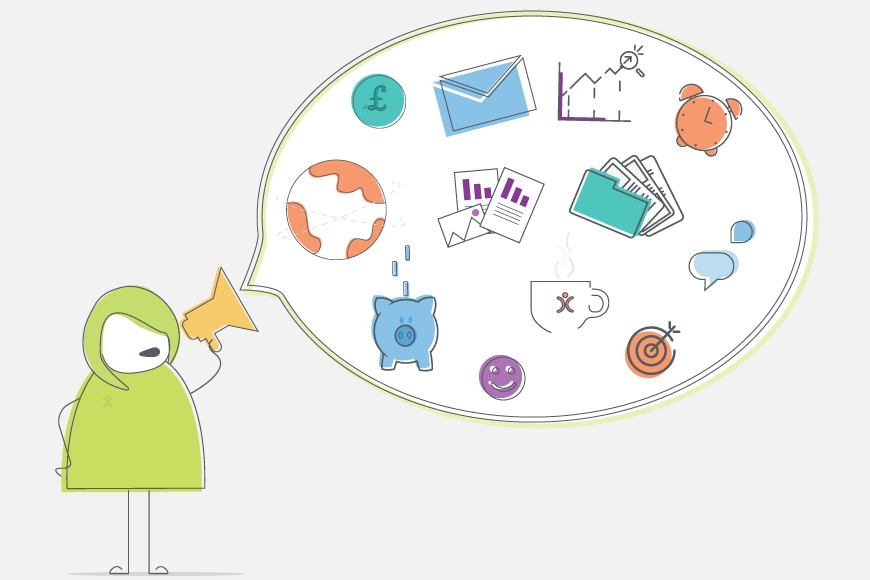 If you are making the most of your CRM software, you can fill it to the brim with valuable information about your stakeholders. Prospects, current and former clients, consultants, suppliers, acquaintances – all business partners whose details you need to store somewhere. It definitely makes sense to house this in a nice central location that can be accessed – in the right context – by the relevant people from any place, at any time.
Well now that data is in place, let's talk about what you can do with that treasure-trove, in marketing term. It is generally easier – and more cost-effective – to retain an existing client, than to acquire a new one.
Before you get started there are a number of points and possible pitfalls to consider but if there's one simple phrase to take away it is simply that "Context is Everything".
The Challenges
One size fits all no longer works. Arguably it never did but before the advent of social media and unsubscribes (OK people signed up to telephone preference services…!) we never fully understood what a pain our email marketing was for most of the recipients. When you receive an email that isn't relevant to you it is perhaps annoying but also makes it blindingly obvious that the sender is just doing bulk marketing without considering their clients and so it reflects badly on them.
Content generation has exploded and with it comes a saturation of information. Coupled with opinions (Ok the jury is out on this one!) that attention spans have been reducing over recent years, it is more important than ever to make your information timely and relevant.
The implementation of GDPR has made it clear to people that they should only be receiving newsletters they have opted into so you need to make sure you are targeting appropriate groups of people, or risk falling foul of the law.
Knowing how to use the technology that is at your fingertips. A badly formulated or designed template can do more harm than good as it makes you look unprofessional and sends the message that your delivery can be sloppy at the best of times.
Make sure the email you send is of value to the customer. Ideally they should be excited about it before they have even opened it, otherwise it is likely to be deleted right away. I know I receive certain newsletters and I look forward to them each and every time as they are always full of great advice.
OK so enough doom and gloom, let's look at a practical example.
I get an email every Friday from a holiday rental company based in North Yorkshire (I know… where else?!). I know exactly what their line of business is, and what they ultimately want from their subscribers – their goal is for me to rent one of their places for a holiday or short break. But their weekly newsletters are chock full of information on the region – anything from upcoming food festivals or special events, highlighting interesting walks or letting you know about local road closures – everything you need to know so you can plan our trip in advance.
I always read the email from start to finish and it has served to earn that company my trust. I can see that they are passionate about their world, so as and when I need to book a holiday break, I am pretty likely to use them. The implication is that they care about their clients, they've researched what their clients want to know, and so on top of the lovely places to stay, they are also a fountain of knowledge.
How Does This Approach Work
I consider the marketing approach from my holiday rental people to be a successful one because:
I am on their list because I am a customer of theirs, therefore they already know their product is of interest to me. As you can see, Context here is the operative word.
They keep their communications down to a sensible level. In doing so they acknowledge the value of their customer's time, and keep their demands of that time to a reasonable minimum.
I have opted in to receive their messages and every now and again they send me a quick questionnaire where I can update my preferences. I'm happy to receive the information they provide, and the holiday people keep their database bang up-to-date.
However even the above company isn't infallible – the last mail I got from them was addressed to "Dear Salutation" – which goes to show that the highest level of tech implementation could still do with a little human intervention and general maintenance from time to time.
---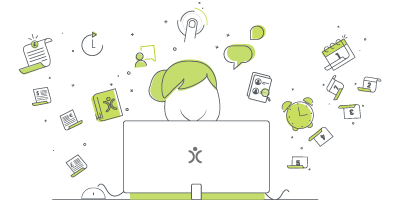 Do we have what it takes?
We don't restrict which features you have access to in OpenCRM based on how many users you have. You get everything right out of the box. Click to find out if we've got the features you need.
find out more
---
How Does CRM Fit Into The Equation
Technology can be smart but not necessarily wise. Regardless of the leaps and bounds being made by technology in the present day, most of us would be unnerved if we were to start seeing driverless cars all over the place. Something I do from time to time is look at the forecast on my weather app and then look out of the window and compare two. I'm not saying the forecast isn't helpful as a general guide, but sometimes the differences between app and reality are pretty huge!
However tech – and in this case your CRM can help you with your marketing activities in the following ways:
It allows you to segment your data and provide you with deeper insights into your database. Break down that information into type of Contact, area of interest, geographical location etc. To help you select the relevant recipients for your planned mailshot.
Create personalised content by addressing the recipient by name in the email or include other relevant information which can be pulled from their contact record, and then use email merge variables to populate this information into the email.
Build templates which can be re-appropriated. Often the hardest part of building an html email template is getting started – building the framework for the email, adding placeholders for images, selecting text size, font etc. However once built a template can easily be duplicated, and the content swapped around so you end up with a consistent-looking email that is on-brand whilst having up-to-date content.
Use click-through links to track any interactions your client base has with your newsletter. Click-through tracking enables you to see who has clicked on which link and how many times they have clicked. Tying those statistics back to both the Contact record and a marketing Campaign gives you the bigger picture so you can assess whether your newsletter was a success or not.
Track ROI using the reporting tools in your CRM. It is straightforward to link sales activities to a marketing campaign – opportunities, quotes, sales orders or invoices can easily be associated. You can then calculate the revenue generated by each campaign, and compare this with the costs involved.
Carrying out your marketing activities from within your CRM software brings that functionality and its results into the heart of your business data – it gives the sales force an insight into what the marketing team has been up to and who in your client base has been responsive. This is really important as it means that when your clients and sales people are in contact on the back of some marketing activity, you are already up to speed with regards to their preferences and interactions with other people in your business.
Because your CRM is designed to house all your business contacts, the marketing potential is great – you can send enticing offers to your leads just as you can send product information and additional resources to existing customers.
However it doesn't stop there. You can keep in touch with your other stakeholder groups just as easily. For example you could easily let all your suppliers know of any changes at your end such as a change in business hours. The marketing automation will enable you to track the suppliers that have acknowledged that information so you know who is getting the message.
Regardless of the target audience the key to the whole idea is to keep everything in context – make sure you are sending the right message to the relevant people, and you'll keep your stakeholders happy and hopefully coming back for more.
My role is to build our Customer Success team and I work with our clients and prospects helping them get the most from their subscription – it is a fun challenging role as no two days are the same. When not in the office I'll be either making a noise on my guitar or getting my trainers on for a run out in the Yorkshire Dales, North York Moors or the Lake District.