Working from Home: OpenCRM's 11 Must Haves
30 Mar 2020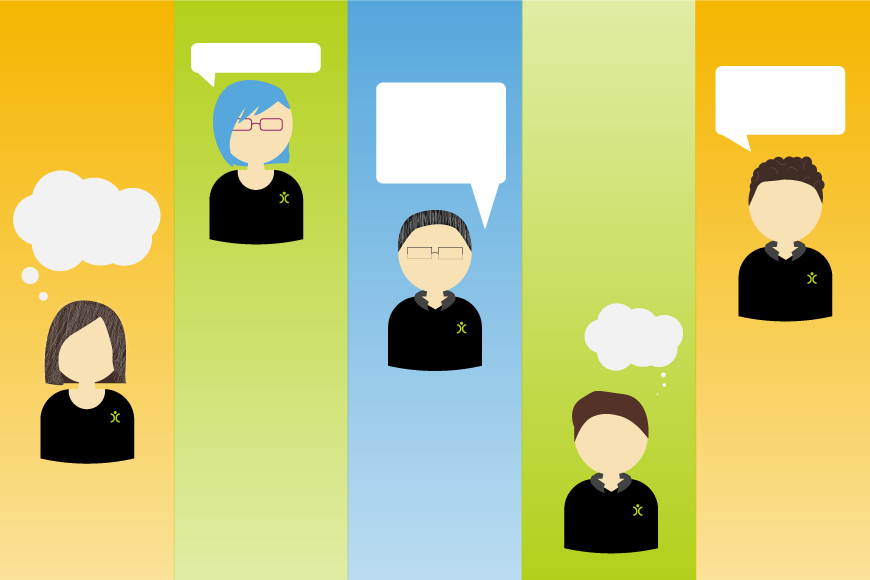 For over 15 years now OpenCRM as a business has always taken a flexible approach to our workspaces, even though we did not need to, this has often meant everyone working in the same building. But we have always been realists. Sometimes people's lives mean that they need to be at home for a morning, afternoon, entire day, or a whole week…or longer. Some people or roles just have to be remote. Often it's just the security knowing we can as part of our disaster planning.
To make sure this was always possible, we have maintained a strategy and infrastructure to allow remote working when needed.
Well, now it's needed more than ever.
Last week, from 17 March, everyone in our organisation started working from home. We had a few people who had already moved to remote working, but as of that date, EVERYONE was at home.
And it went off without a hitch. Tuesday morning came, everyone signed in, and carried on working as normal.
So how did we do it? And how do we make it a success?
I have put together a list of the things that make this work for us as a company, the "must haves" that make the whole process run as smoothly as possible. And then I've asked the team for their personal tips and tricks that make working from home really work for them.
Remote Work Infographic
Here is an infographic that might help guide us through the rest of this article as I go through some of the points in more detail.

Working from home: Company must haves
As a business, there are things you will need to put in place (or keep in mind) to make your new remote workforce as effective as they were when everyone was in the office.
Business Continuity and Disaster Preparedness Plans
No one knows what the future holds, so make sure you have plans in place now to cover all eventualities. This could be everything from back up phone systems, strategies for staff shortages, and supply chain disruptions.
Going through the process of identifying critical systems and staff, what it would do to the business if you didn't have them, and brainstorming possible solutions is vital for every company. It also puts everything in focus.
From a personal point of view, I have found it very reassuring to put all these plans in place.
Cloud software
I know, I know…I would say that every business needs software (with adequate security controls) that can be accessed from anywhere. And we've talked about it on plenty of other blogs in the past.
But right now, at this moment in time, the reality is that if you have any on-desk systems that you use, you'll be having to find online alternatives.
As much as it pains me to say it, this doesn't mean that you have to switch to wholly cloud based solutions like OpenCRM right now. You could use virtual machines to access non-cloud based systems, giving you and your team access to the software you need to keep running your business.
Secure connection capability
While you're setting up the ability for your team to access the systems, you need to consider the most secure way for them to do so.
The reason for this is essentially that there are terrible people out there, taking advantage of the fact that the rest of us have had to leave secure office networks, bringing our valuable business data into home networks that may not be as secure.
My advice? Get in touch with IT experts, ask them about setting up Virtual Private Networks (VPNs), Remote Desktop Protocols (RDP), Virtual Machines (VMs), etc. Do whatever you need to protect your business data.
Get this right and the next few months will be a lot less anxious than if you are constantly having to check and double check what the team are doing and if they are following the procedures you have asked of them.
Video conferencing and webcams
Every morning, starting on the 17th March, everyone at OpenCRM logs in for a 10 minute (or so) chat before the start of the work day. We call this our 'Tea and Toast – Kickstart Meeting'.
We just chat about normal stuff…what people's pets have got up to, the weather, people's health, tv we watched the night before. Just that normal chitchat that has been lost with the move to remote working.
It's not a way for me as the boss to check in that everyone is up and working. Ok, it does that too, but the more important thing is that we can all see each other…actually SEE each other over web cams and have real human contact with the people we are working with.
It is essential, it reinforces to everyone on your team that you are all in this together.
If you aren't doing video conferencing, start doing it now. If people don't have webcams, ask them to dial in from their phones. I can't stress enough how important this virtual coffee morning has become to all of us.
---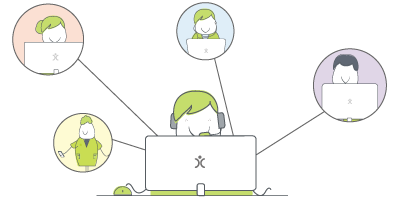 Watch and learn
If you're looking for further information on how specific features and functionality play out in OpenCRM, why not click to check out our webinars?
watch now
---
Stick to the routine
In addition to adding meetings to your day to keep everyone feeling connected, it's important to try and keep the rest of your day working as normal.
Any regular meetings should still continue, ideally by video conference where you can share screens so everyone is looking at the same information. Other elements of your routines, whether phone schedules, weekly tasks, etc., should also carry on as normal where possible.
There will of course be stuff you and your team can't do or at least can't do in the same way you did before, but sticking to your routine as much as possible will help people feel a small slice of normality in this truly extraordinary time.
Patience
People's kids and pets are going to make noise during meetings. There's not a whole lot they'll be able to do about it. And they'll be embarrassed enough about it without you drawing attention to it or scolding them for it.
Other people are going to struggle to focus – especially at the beginning, everyone is dealing with a lot at the moment. Their work may suffer, but try to keep up a positive dialogue around it.
What I'm saying here really is that, for all managers, it is our responsibility to keep the business running. But it's also our responsibility to look out for the people we manage, as best we can, in this really difficult time.
So cut people a break. Be patient. And be there for them when they need it.
Remote Working: Personal must haves
The change to remote working, as all those videos and posts on social media can attest, is tough. I've talked about things I think businesses need to do to make it a success, but what about the individuals?
There are things each of us will need to do in the coming days, weeks, and maybe even months to make this work.
Space to work
Having workspace that is different from your relaxing space seems to be a popular recommendation for being able to draw a line between work and home. But what about when you can't do this?
Whether you've got kids in the sitting room that need watching or you just don't have anywhere to be, having a dedicated "home office" isn't possible for everyone.
According to our QA and Office Manager, Ashley:
"It's not about being a different room, necessarily, it's about having a different view. Instead of facing the TV the way you might do on an evening, make sure you're facing away from the centre of the room, even if it's right into a wall. Not ideal, but you make the most of it.
You can even try putting your "desk" away on an evening so it's not there, taunting you with work stuff while you're relaxing later."
Time away from that space
In addition to having a set workspace, I think it's important to take breaks away from that space throughout the day. Think about it this way…when you're at work, you don't spend all day in the exact same place. You go make a brew, pop out at lunch, go into the meeting room, wander over to someone else's desk, etc.
When you're working from home and a lot of this kind of thing has moved into virtual meetings, getting a change of scene isn't as easy.
Danny, our Head of Business Development says:
"Don't eat lunch at your desk. Don't go online as a break. Get away from your desk. Maybe use your lunch break as the time exercise? Or just walk a quick lap around your garden while you're waiting for the kettle to boil?"
---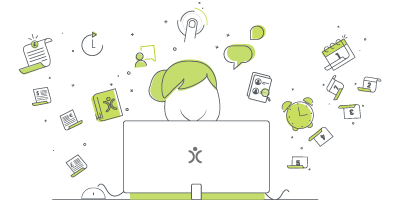 Do we have what it takes?
We don't restrict which features you have access to in OpenCRM based on how many users you have. You get everything right out of the box. Click to find out if we've got the features you need.
find out more
---
"Head down" time
With kids kept at home, pets enjoying/hating you being at home all the time, partners adjusting to working from home, and the unrelenting news cycle, it can be really difficult to find a bit of time to just get your head down and get some work done.
Our Accountant, Victoria, a long-time remote worker, has this advice:
"Don't expect the same amount of time to focus, instead try to use those few minutes here and there you DO get to really get stuck into the task at hand. Plus, sticking a Disney film on should buy you at least a couple minutes to get through that particularly difficult problem."
Music
We're usually a fairly silent office, as in we don't have music playing and everyone pretty much just gets on with what they need to do. Saying that I've been surprised how quiet my home office is now that I can't hear our support team taking calls, Danny on demos, and people chatting in the kitchen while making their lunches.
If you're missing a not-so-quiet office, sticking on a bit of background music can be just the thing to fill that silence.
Andy, one of our Support Techs has been surprised how much he needs the music:
"I think Spotify has become my essential work-at-home tool. I need to have a bit of background noise and exchanging the sound of typing and other phone calls for a bit of music has been great for keeping me on task."
If you're interested in what the team are listening to, why not check out our Spotify playlist?
Kindness
And finally, I think I can safely say that we're all going through a lot right now. It's a stressful and emotional time for everyone.
Be kind to yourself, don't beat yourself up too much if you aren't as productive as before. You'll get there. You'll adjust to your new routine. Just give yourself time.
We'd love to hear from you with your own remote working tips, so please do get in touch via our social media accounts.
And if you're looking for more tips, why not check out Facebook's Resource Hub?
Before I got my start in the tech industry as part of Apple's UK Mac launch team, I was a professional drummer (notice I didn't say musician). But once I got in, I was hooked and I've been involved in the tech industry, primarily software development, for over 35 years. I founded this company and I now have the enviable title of System Architect (as well as Managing Director) here at OpenCRM.